What is the real meaning behind Driver's License?
"Drivers License" is a song written by Olivia Rodrigo. It was released on January 8, 2021. Many were shocked that a 17-year-old's debut single hit number one on the top billboard in a week. It helps that Rodrigo starred on Disney Channel in Bizaardvark and is currently starring in the Disney plus original, High School Musical: The Musical: The Series, so she already had lots of fans. Fans started to assume when they read through the lyrics that it was about a specific someone. She and Joshua Bassett had just recently broken up, so everyone immediately assumed it was about the breakup. Bassett recently got together with Sabrina Carpenter, so there were some hard feelings there with Carpenter and Rodrigo. It has not been confirmed that "Drivers License" was written about Bassett and Carpenter, but it would definitely make sense. There are a couple of lines in the song that goes:
"And you're probably with that blonde girl
Who always made me doubt
She's so much older than me"
These lyrics have fueled the fire of suspicion about who they are about.  If you read through the lyrics carefully, Carpenter is a blonde, and she's with Bassett now. When she says "She's so much older than me," she is referring to Sabrina's age because she is 21, while Rodrigo is only 17. Being Olivia, I would have doubted myself too because that's intimidating, and he ended up with the girl anyways. When you listen to the words of the song, as well as listen to the music in general, it is supposed to be sad and make us feel that way. Artists want the people listening to feel the connection and feel how they felt writing it. It could also be an argument that she wrote the song the way she did so that we could try to figure out what she is writing about and play detective in a way trying to figure it out. More people are drawn to the song and will keep repeating it if they think it has meaning to it and are interested in trying to figure it out. "Drivers License" is overall an emotional song that makes whoever is listening think and feel the way the artist does. It is very popular and is a great way of telling people how she feels.
About the Contributor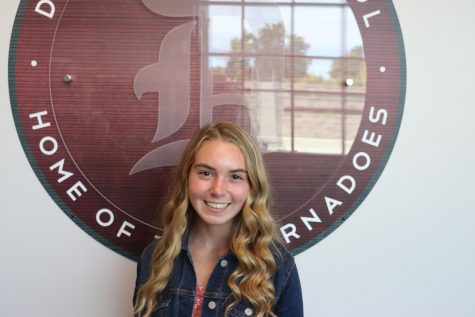 Lauren Grafe, Staff Writer




Lauren is a sophomore and a second-year member of the Crimsonian Staff. She participates in soccer, dance team, choir, Ars Nova, and Interact club. ...