Guess the Couple!
Hang on for a minute...we're trying to find some more stories you might like.
With homecoming just passing everyone is in the midst of new relationships or bettering old ones. Everyone knows who is dating who and who is talking. While the Crimsonian staff was looking through past editions, we noticed an article called the mystery couple. In this article, the author gave descriptions of couples, and the readers would guess which of the school's couples they were describing. Our staff thought this was the perfect time to bring this back. Please note that all couples have agreed to participate in this fun game!
Our first couple is from the sophomore class. The boy is 5'7 and has medium length dirty blonde hair. He enjoys participating in soccer as well as track and field. In the past, he has run distance and relays. His favorite teacher is Mrs. McFarren. In his free time, he enjoys hanging out with his friends and his girlfriend. The girl is 4'8 and has long light brown hair. She participates in cross country and is on the varsity cheer team. Her favorite teacher is Mr. O'Donnell. She is very good at makeup and has great fashion choices.
Our second couple is from the junior class. The girl is 5'7 and has medium length blonde hair. The boy, on the other hand, has short brown hair and is 5'8. The girl is on the girls' golf team and dances for the Tuscarawas dance studio. In her free time, she babysits, swims in her pool, and visits her boyfriend at work. The boy is on the varsity soccer team and also participates in choir. You may have been to one of this boy's parties where he DJs. His favorite teacher is Mrs. Altier, and the girl's favorite teacher is Mrs. Whaley.
Our first couple is Seth Wisintainer and Nora Bryan, and our second couple is Skylar McPeek and Peter Nguyen.
About the Writer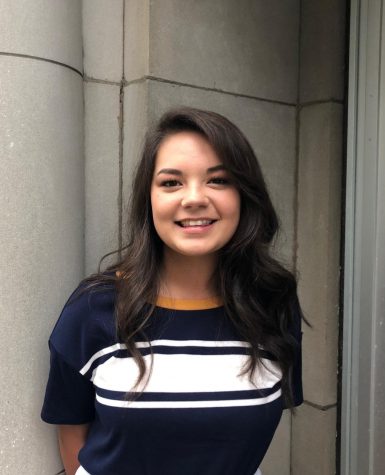 Olivia Patton, Staff Writer
Olivia is a sophomore and a first year member of the Crimsonian staff. Olivia enjoys singing in concert choir and Ars Nova. She is also secretary for the...