Don't Delay, Get to the Red and Gray Cafe!
Hang on for a minute...we're trying to find some more stories you might like.
If you have ever craved a sweet treat or refreshing drink at the end of the school day, head down the hallway by the board room, and you will find the Red and Gray Cafe. The Red and Gray Cafe is a coffee shop managed by students in the Work Seminar Program that is open during 8th and 9th periods. They have a great variety of drinks such as frappuccinos, smoothies, hot chocolate, iced tea, and lemonade, and to go with your drink of choice, there are cookies to satisfy your sweet tooth. The cafe not only provides DHS with delicious snacks but also offers the students that work there with valuable life lessons and skills.  
The Red and Gray Cafe began 5 years ago, and it opened first in the concession stand. The cafe moved to its current location when a counter top was built and an oven was installed, converting the classroom into a coffee shop and bakery. Ever since its beginning, the Red and Gray Cafe has helped students develop their vocational skills. Mrs. Smith, one of the teachers who oversees the cafe, describes the benefits the students receive: "We started the cafe to give the kids genuine work experience that they would not get otherwise because they are too young to get a job outside of school, and they need to practice employability skills. They practice things like following recipes, customer service, cleaning up, handling hot drinks, and counting money." These abilities will be very useful in future jobs for the students after graduation. A long term objective of the cafe is to help students become more confident in their occupational skills, supporting them when they become workers. Along with work skills, the students gain assurance in their ability to communicate with others through social interaction. 
Upon arriving at the cafe, you will be pleasantly greeted by Lauren Robinson, one of the awesome cafe employees. Lauren works at the front counter, and she will take your order, count your money, and supply you with change if necessary. When asked what she likes about working in the cafe, Lauren replied, "Well, I really like making new friends." To this same question, Selena Lawrence, another talented worker, stated that "I like making the drinks." The cafe has many fun drinks, including blueberry lemonade, which is Lauren's favorite refreshment to make. According to Lauren, one of the Red and Gray Cafe's most popular items is the cookies "because they sell out a lot of times." The cafe has even caused Lauren to consider a possible future career in the food industry and inspired her to cook at Buckeye when she went to the career exploration day. Lauren explains a typical day in the cafe as "a lot of people coming in for a rush," so make sure to stop in before the cookies are gone. In the words of Lauren, they are "sugartastic!"
About the Writer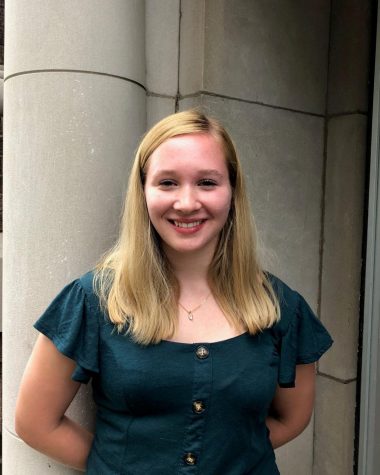 Lauren Jirles, Feature Editor
Lauren Jirles is a junior and a second year member of the Crimsonian Staff. She participates in cheerleading, Sparkle, and Best Buddies.