Hello, Dolly! Musical at Dover High School

As many know, to commemorate the final theater production in the old high school, Mr.Morris chose to put on a production of one of the most beloved musicals of all time, Hello Dolly. Overall, the production was a large scale success, producing three standing ovations, one for each showing. In addition, ticket sales for the show were fantastic, averaging a total of around 490 per show (including complimentary tickets) according to Mr.Morris. Truly this praise is not undeserved, as the actors, pit, and crew alike put in much hard work to make the world of 1890 New York come to life.
Cast: Dolly Levi: Emily Ivory, Horace Vandergelder: Dylan DeMonte, Cornelius Hackl: Cameron Johnson, Barnaby Tucker: Noah Morris, Irene Malloy: Chloe Crone, Minnie Fay: Rachel Ress, Ambrose Kemper: Brody Morris, Ermengarde: Sara Hohman, Earnestina Money: Claire Bauer, Rudolf Reisenweber: Carlo Capozella, Mrs. Rose: Zoe Korns, Judge: Sam Worst, Singing/Dancing Ensemble: Calista Coletti, Chloe Contini, Willow Cox, Kylie Eckstein, Elaina Garrett, Kennedy Hale, Rylie Hanenkrat, Sophie Hanenkrat, Chloe Lindsay, Gwen McCoury, Zoe Mulheman, Isabella Palkowitsh, Olivia Patton, Alexis Ross, Makayla Royer, Corinthia Sanders, Laura Sexton, Brooke Sommers, Calli Symons, Olivia Telle, Absidy Watson, Grace Williams, Caden Bantum, Aaron Callentine, Austin Cochrun, Will Haverfield, Tyson Lurie, Ryder Paris, Chase Sanda, Cole Senter, Blake Sexton, John Telle.
About the Contributors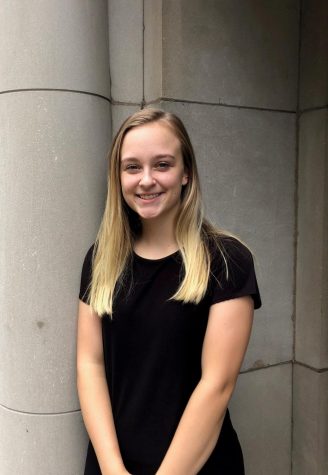 Calli Symons, Co-Editor-in-Chief
Calli is a 3 year member of the Crimsonian Staff. She is a part of National Honors Society, Key Club, Science Olympiad and Thespians.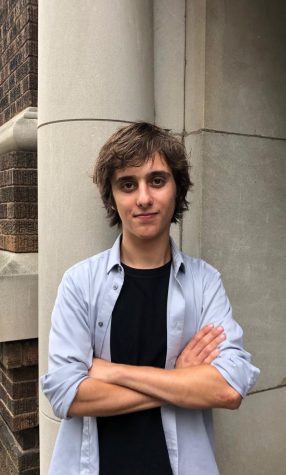 Lucca Paris, Co- Editor-In-Chief
Lucca is a 3rd year Crimsonian member. He is involved in theater, orchestra, tennis, and National Honors Society.