Prom Style Evolution
The hype around school dances has changed drastically over the decades. Homecoming and prom are much more extravagant now than they ever were in the past. Over-the-top "promposals" were not even common in the early 2000s. It was more of a low-key question rather than a big poster. Nowadays, girls will spend months in preparation for prom. Girls want to ensure that they will get the dress they have in mind and that no one else will have the same one. One of the biggest differences between prom today and in the past are the style of dresses and men's formal suits.
In generations past, a popular characteristic of formal dance dresses was to have bigger, poofy sleeves. Ruffles were also much more common in those dresses than they are now. It was not possible for a dress to have too many ruffles. Layers of poofy, colorful ruffles gave an hourglass shape to the body. Another common dress style in the 80's was inspired by tulle skirts. Tulle material is very lightweight and has stiff netting, similar to mesh. Tulles were made more sophisticated when small embroidered polka dots were added to them. As far as the boys go, black bow-tie tuxedos were the staple. This style did not evolve much from earlier dress pants, collared shirt, and some sort of tie. Also, similar to today, girls always matched the color of their dress to their dates outfit, whether it be the tie, pants, or shirt.
Today, hairstyles are as important as the dress as girls normally get an elaborate up or down do's that requires an excessive amount of bobby pins and hairspray. Back in the 80's, most girls had either poofy crimped hair or poofy hair with big curls. Volume looks like it was the key component for the hair-do's. It almost looked messy, but that's the style that was "in." I must add that I've made the mistake of teasing my hair before; it was incredibly difficult to brush out and stayed in the same shape for far too long. Unfortunately, mullets were also "in." Let's just say that some of those boys in prom pictures from the 80's could definitely not rock a mullet.
At the moment, slim, tight fitted dresses are very common and in style. However, this was not a popular style in the 80's and 90's. Another obvious difference to draw is that newer dresses tend to have big gems, lace, or sequin material. Chunky gems on the dresses were not very common at all. Similar to today's fashion, prom dresses were generally long and touched the floor. That is a tradition that I've noticed is slowly starting to lose significance. I have actually seen a few long homecoming dresses and short prom dresses. Men's suits have remained relatively unchanged, usually matching or complimenting their dates' look.
In the early 2000's, girls got their inspiration for hair and makeup from magazines. Now, girls find hair, nail, and makeup ideas from Pinterest and Instagram. One could easily find hundreds of Pinterest boards dedicated to ideas and examples for prom. Speaking of nails, those long acrylic nails were never a trend in the past. Nails have turned into literal claws, especially for prom and homecoming. Although there is definitely nothing wrong with it, most girls rarely attend a dance such as prom with unpainted short nails. Instead, the norm is to pay a decent amount of money for someone to glue plastic to your fingers. Don't get me wrong, acrylic nails can look incredible, but personally, I can't look at acrylic nails without thinking about the videos where people tape objects on their fingers to mimic the long nails and lip-sync High Fashion.
In the end, prom styles have evolved a lot over the years to fit the newest trends of that time, and when the yearbooks of the past are pulled from the shelf, there is never a shortage of fabulous fashion to check out.
About the Writer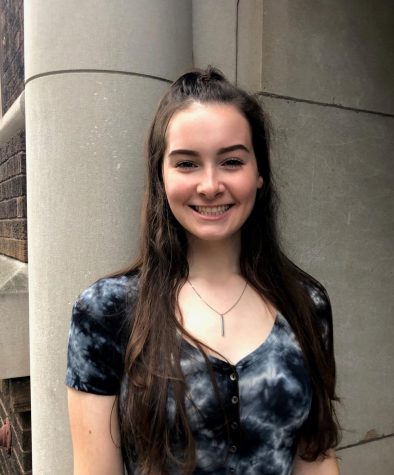 Katie Bruno, Staff Writer
Katie Bruno is a sophomore and a first year member of the Crimsonian staff. She is a cheerleader and plays the violin in the orchestra.