Covid-19 Pet Supplies and Increase in Pet adoption
As you may know, States across the U.S. have closed schools and shut down many jobs, while people are advised to quarantine to stay safe. During quarantine countless people have found themselves missing the friends they used to see daily. In order to fill the friendship void many have turned to furry companions. Before hunkering down in their homes, people have turned to the adoption and fostering of pets.
Many pet adoption centers across the country have moved to digital advertising in order to promote their cause. With everyone inside we're bound to spend more time on the internet. Adoption centers have this in mind when creating digital ads for the millions of people online daily. Fortunately, online advertising seems to be working! Adoption centers across the United States have reported pairing almost all of their animals for adoptions. Shelters around the US are close to empty because of all of the animals adopted and put into the foster program. According to Matt Bershadker, CEO of American Society for the Prevention of Cruelty to Animals (ASPCA), has said that the ASPCA offices in New York and Los Angeles have seen a 70 percent increase in animals entering the foster care program compared to this time last year.
The ASPCA will grant $2 million to animal welfare organizations that have been affected by the virus. These grants will help pay for essential services such as safety net programs, adoption/foster programs and basic veterinary care, all of which are proving to be vital services for animals during this outbreak. To aid in the care of pets around the world the ASPCA has also launched a $5 million ASPCA COVID-19 Relief and Recovery Initiative that will distribute lifesaving grants to animal welfare organizations and establish regional pet food distribution centers across several states. Working in collaborations with the Petco Foundation and Blue Buffalo, the initiative will create regional pet food distribution centers, starting first in New York City, with others to follow in Miami, Los Angeles and North Carolina. At these centers, dog and cat owners will be able to access critical and free pet food supplies.
While it may be easy to see the negative news during these confusing times, it is important to acknowledge the plentiful good news in the world. Pet adoption success stories are popping up all over the internet and giving everyone a reason to smile. Pets worldwide are finding loving homes and creating a mutually beneficial friendship with human counterparts.
About the Writer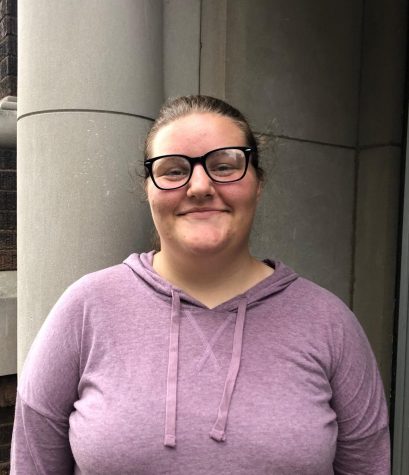 Allie Hisle, Staff Writer
Allie is a sophomore and first year member of the Crimsonian staff. She plays the saxophone in the DHS marching band and jazz band.