Thank you First Responders
As our country's hospitals fill with new patients everyday testing positive for CoronaVirus, those who work in the medical field are called to action. Because these people are still required to go to work, they are exposed to the virus and are much more likely to contract it. Despite this, they show up to help patients reach a healthy status once again. The country has acknowledged this and has shown their thanks in many ways.
Select retailers across the nation are giving priority access to healthcare workers and first responders. This includes exclusive shopping hours, a pass to the front of line, and even discounts at some restaurants and convenience stores. Even with the dropping gas prices, some gas stations are even offering a discount per gallon to first responders and healthcare workers. Crocs also gave a free pair of two different types of crocs to those on the front line.
Thousands of people all over different social media platforms are sharing videos, pictures, and posters to support the essential workers risking their life everyday. Some of the heartwarming thank yous can be found on the New York Post. Landmarks across the world were even lit with messages and thanks in support of the first responders.
Thank you cards and notes have been sent by many to hospitals and care facilities by schools. Police and firefighter forces have done parade thank yous around hospitals. People have put signs in their yards or windows to show appreciation. People have come together to acknowledge those who are the healthcare workers and first responders fighting this battle on the front line.
The staff and many others with Dover High School say "thank you" for helping and sacrificing everything to help those who need it most. If you know someone who is helping, reach out and say thank you.
About the Writer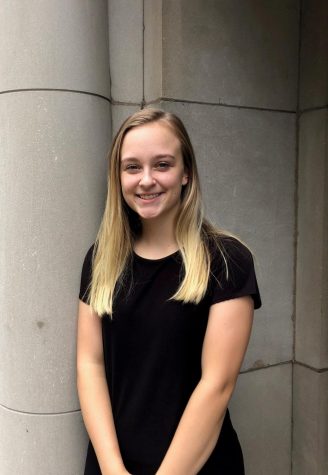 Calli Symons, Co-Editor-in-Chief
Calli is a 3 year member of the Crimsonian Staff. She is a part of National Honors Society, Key Club, Science Olympiad and Thespians.