Cobra Kai: A Reimagining of the Karate Kid Franchise
If you have ever seen Karate Kid, you are accustomed to the familiar wholesomeness of the film. For many, the movie is an inspiring tale where the underdog, Daniel LaRusso, defeats the bully, Johnny Lawrence, during their karate tournament. For me, watching Karate Kid was a fun way to spend time with my parents; it enabled me to get a glimpse into life in the 80s. "Wax on, wax off, no mercy, and sweep the leg" are part of my everyday vernacular. I incorporate Mr. Miyagi's principles of balance into my life. Basically, what I am trying to emphasize is that I am a big Karate Kid fan. For any fellow fans of Karate Kid, Cobra Kai is a way to experience the nostalgia of the movie series. Cobra Kai is a spinoff show of the Karate Kid movies, which originally premiered on Youtube Red and was recently brought to Netflix.
The show begins with a look into Johnny Lawrence's life: Johnny is evidently dissatisfied with the state of his life, and he ends up getting fired from his job. It seems that ever since losing the karate match to Daniel LaRusso in high school, Johnny has let his life go down a poor path. Johnny is painted as an underdog that viewers want to root for. Out of work and disappointed with his circumstances, Johnny decides to open up his own karate dojo, named Cobra Kai after his dojo in high school. Johnny begins to recruit students for his dojo, and the students are what one might describe as somewhat nerdy. I appreciate this aspect of the show because, in the new version of Cobra Kai, anyone can express themselves through karate, not just the classic jock stereotype. For these kids that feel rejected and bullied by their peers, Cobra Kai inspires them to "strike first, strike hard, and show no mercy." Miguel, a student who starts out nerdy and timid, is transformed into Johnny's most fearless and bold student.
On the other hand, Johnny's depressing circumstances are juxtaposed with Daniel LaRusso's success. Daniel has opened his own thriving car dealership, and when he hears about Cobra Kai's reopening, he decides to open his own dojo, Miyagi-Do. The central conflict of the show revolves around Cobra Kai vs. Miyagi-Do, two differing ideologies of karate. Cobra Kai focuses on offense, while Miyagi-Do focuses on defense. Personally, I identify more with Miyagi-Do, a pure form of karate that uses fighting only in self-defense and emphasizes the importance of balance. However, my parents are on team Cobra Kai, a form of karate that prides itself on attacking first.
Throughout the conflicts of the show, the audience is introduced to a new point of view of the Karate Kid story–Johnny Lawrence's view. In the original movie, the viewer is made to think that Daniel is the good guy, constantly being antagonized by the bully, Johnny. However, in Cobra Kai, viewers are introduced to Johnny's point of view of the situation. He saw Daniel as the antagonist instead. By creating a fuller picture of the story, one learns that there are always two sides to every story. When one tries to understand another's point of view, he is more likely to see where the other is coming from. I admire the writers' ability to switch who the audience is advocating for (I still love Daniel, but my parents prefer Johnny). I encourage you, dear reader, to watch Cobra Kai and see whose team you are on: Cobra Kai or Miyagi-Do. The show is a great source of nostalgia for past Karate Kid fans, but it also introduces a new generation to the Karate Kid series. Nostalgia, a great 80s music soundtrack, and Ralph Macchio: what is not to love?
About the Contributor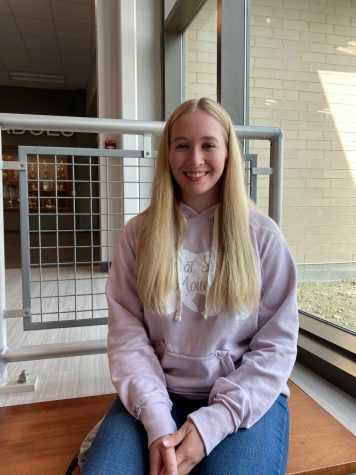 Lauren Jirles, Co-Editor-in-Chief
Lauren is a senior and a third year member of the Crimsonian staff. She is involved in cheerleading, Sparkle, Best Buddies, and National Honor Society.