Kate Fagan's visit to DHS
Kate Fagan's Educational Presentation at DHS
Not too long ago, all DHS students had an opportunity to attend or watch author Kate Fagan speak in our very own auditorium. Her book What Made Maddy Run is a story about a star athlete, scholar, and beautiful young college student that took her own life. Kate really dug deep into Maddy's story after seeing it on the news. She knew there had to be more to Maddy than what the news claimed as to why this young girl would end her life. Kate explained Maddy's story and the reasons for her feelings, and she pointed out how other teenagers may be feeling exactly how Maddy did. Kate felt that these teenagers could be helped by reading her book to know they are not alone.
Her presentation explained so many important topics for teenagers and students that are getting ready to attend college or even go out into their workforce. She discussed her conversations with Maddy's parents about their daughter's mental health, and it really opened the conversation to how parents react and comprehend mental health in today's teens. According to Kate, "Parents don't really know how to help. Some aren't prepared for this new version of their high-achieving kid: doubting, sad, tired, confused- emotions they may have rarely dealt with in high school. And isn't college even supposed to be even better than high school? When your child is more mature, self-sufficient, and otherwise flourishing just as she always has been, except now at an even higher level?" She explained how the "college experience" is known as these magical four years. However, a lot of teens do not realize how much work college takes and how much you need to truly take care of yourself during those significant years.
Everyone is different and will experience so many different things, but we also all have struggles that we go through. Kate used Maddy's story as a way to communicate with kids, teens, and adults about mental health and how important it is to know you are never alone. Someone is probably feeling exactly how you are feeling, and you will always have someone there to help you through. She stated, "And though it is certainly true that everyone has a story. It is also true that some stories help us learn more, grow more. Some stories simply touch us more deeply as they reach right into our hearts, settle there, and never leave". This quote shows how everyone can relate together in some way, and that we need to be more understanding and help those who are struggling in any way. You never know what a simple thing could impact someone so much.
Lastly, I would like to share that Kate's presentation really opened my eyes to mental health, and I hope whoever else attended also got something to help either themselves or someone else in their futures out of it. We had this once in a lifetime event at DHS, and if you didn't take part, I highly recommend going to anything else we have at the school in the future.
About the Contributor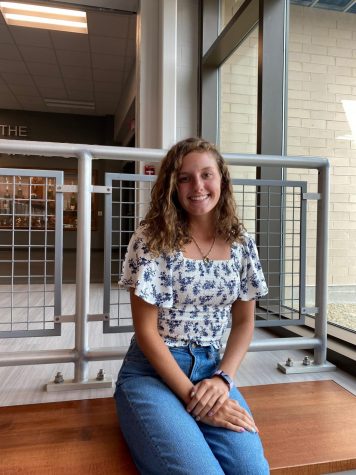 Emili Edwards, Staff Writer
Emili is a senior and a first-year member of the Crimsonian Staff. She is a member of the Dover Girls Tennis and Dance Team. She is involved in Big Brothers...