2020 Fashion Trends That We've Seen Before
Recent fashion trends are the product of early decades seeping back into our closets. This provides more flexibility than ever, which makes fashion a compelling topic. Even with the return of these classic trends, 2020 is still difficult to describe fashion-wise. It could be said that the 80s were extravagant when it comes to color and silhouette. The 90s could be described as minimalistic when it comes to shapes and pieces from this era. But how could our modern fashion age be described? There are many staple pieces that point in the right direction.
Mixed into the growing list of fads making their way back, there are brand new trends that are the basis of our decade's style. Items such as button-down denim or corduroy skirts, off the shoulder tops, and maxi and midi dresses are especially trendy. However these items alone, although in style, are modern. This means that they can not condense the fashion era of 2020, because we are heavily influenced by silhouettes, materials, and even specific pieces from earlier decades.
Items like bucket hats, cardigans, turtlenecks and more all give 2020 a slightly vintage touch.
Once outdated silhouettes are on the rise yet again. Straight-legged pants with a relaxed fit, specifically jeans from the 90s, have made a comeback. The 2000s cami top is making an appearance. A preppy style is also prevalent as seen in the return of structured shirts, and pleated skirts. A specific example is a collared shirt layered under a sweatshirt for an interesting juxtaposition. All of these bits and pieces are taken and are worn by our modern world. Styles from decades reaching back to the last 40-60 years are not unusual when seen in a present-day setting. I wouldn't be shell shocked to see someone wearing flowy, patterned, 70s inspired bell bottom pants with a crop top and round sunglasses, as I might be to see someone in a red and white polka-dotted 50s dress. However this is still not a complete description of 2020's style as a whole.
2020 is difficult to describe fashion-wise in just a few words. And further, It is almost completely impossible to sum up into a single color palette or a few silhouettes because our whole modern fashion sense is a mashup of different aesthetics, from different decades, like romantic, boho, vintage, trendy and so many more. There are countless ways to present yourself in 2020, although most of them include a mask, the fashion world has grown into something exciting and diverse.
About the Writer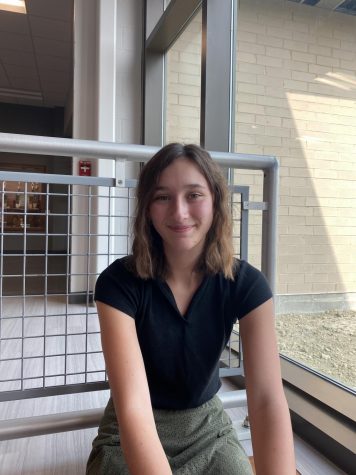 Emma Copple, Staff Writer
Emma is a first year Crimsonian Staff Writer. Her favorite school subject is language arts. She enjoys hobbies that require creativity. Emma's favorite...