Cut Off: An Among Us Inspired Narrative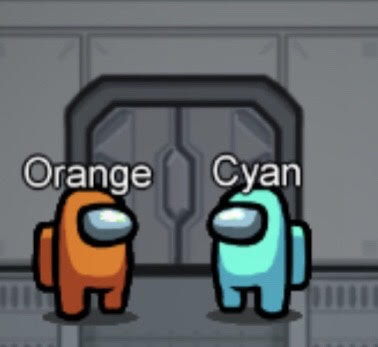 Cut Off: An Among Us Inspired Narrative
The fluorescent lights shone down on me. I swiped my card in admin. My hands shook as I swiped the card again and again, the card reader blinking "too fast."
"What's taking you so long?" Orange asked. "You aren't still worried about the impostor, are you?"
The card reader beeped and flashed a green light. "Of course I'm still scared," I whispered, "The impostor could be any of the other seven crewmates."
"We have nothing to worry about," Orange reassured. "As long as we stay together, we will be fine. We will make it out of here alive."
Orange and I walked down the hall and into storage. I adjusted my cyan space suit before I started pumping gasoline for the reactors. "Who do you think the impostor is?" I asked him.
He sat on one of the storage crates. "If I had to guess, I would say it would be Red. He was accusing most everyone at the emergency meeting. Don't you think that's a little sus?"
I picked up the gasoline. "Can you blame him? Remember how close he was to Pink before she died? That has to be hard for him." We began walking to the reactors.
"I understand that, but he was accusing White. White is the most innocent person on this ship! She couldn't even hurt a fly!" Orange grabbed the gasoline from me and began pouring it into the lower reactor. "I mean, I know he just lost Pink, but so did we! You don't see me accusing everyone I see!"
I started to argue, only to stop when the lights above us flickered. They dimmed until we were left in absolute darkness. The only lights I saw were that of distant blinking machines.
I felt something brush up against me. A scream escaped me, echoing in the vast darkness surrounding me. I tried to make a hasty escape from the impostor, only to be grabbed by the arm. "Relax," I heard Orange say, "It's only me. I'm not going to hurt you."
I felt my heartbeat thumping in my chest. I took deep breaths to slow it. I could barely make out his silhouette, but even that reassured me it was him. Orange held my hand as he walked me to electrical.
I felt my heartbeat escalate again. My breaths came in quick intervals, making me light-headed. This is where Pink died, I thought. What if the impostor is still here?
Orange led us to the power grid. He opened it with ease. I heard switches flick and saw tiny green lights pierce through the dark. His hand stopped above the last switch.
"What are you doing?" I asked. "Flip the last sw-"
Thud. Orange and I both froze. We looked at each other, then at the vent in the back corner of the room.
Thud. The noise was louder as if the thing was getting closer. I grabbed onto Orange in fear.
Thud. It was right on top of us now, I just knew it. I braced myself for sudden death.
Nothing. I opened my eyes and saw nothing come from the vent. Then, I saw it. A silhouette of the vent door opening. The vent screeched, sending chills down my spine.
The shadow of a man rose from the vent. If I squinted, I could see… Purple? Or was that Blue?
I felt the impostor's eyes on us. They penetrated through me as if debating what form of death I should suffer. Then, I saw the glint of a thin, sharp blade.
I ran, Orange in tow. Time seemed to slow. Running felt twice as difficult as it had been before. We ran through storage, past admin, and into the cafeteria. My lungs ached, and my legs burned. I heard the impostor gaining on us, but it didn't matter now. We were almost there. We were so close to the emergency meeting button.
My breath caught in my throat. Pain erupted. I couldn't breathe. Lights flickered back on, and the hum of electricity filled my ears.
I fell to the ground. Sharp teeth filled my vision.
I saw Orange. Except it wasn't Orange. When looking up, I did not see the friend I had known for years on end- the person I trusted most with my life- instead what I saw was a horrible and twisted version of the person I had once known. The thing was a horrid and grotesque mixture of nightmares and reality, one that made my gut twist in fear. I saw a large, blood-drenched mouth open across his stomach. Rows of sharp jagged teeth filled his mouth. One knife-like tongue slithered away from where it pierced my throat.
My lungs burned. My throat throbbed. My vision blurred and darkened around the edges. How could he? I thought he was my friend.
Orange crouched in front of me. His visor hid any emotions he might have. I closed my eyes for what I feared was the last time.
Orange whispered something in my ear, something I could barely make out.
"I'm not sorry."
As my breathing became ragged, I heard Orange cry. I heard the familiar voices of the fellow crewmates asking "what happened," "who did this," "Orange what did you do?"
Distantly, I felt Orange hug my body. I felt his body shake with tears. "Who did this?!" Orange screamed.
I knew what the impostor was doing. He was throwing the blame off of himself.
It didn't matter now; I couldn't do anything at this point, being too weak to speak or even breathe.
I felt light; untied to anything that could hold me down. I felt a weight come off my chest. In an instant, all the pain I was feeling vanished. I squinted my eyes open, waiting for them to adjust to the harsh fluorescent lights. I saw the impostor still hugging my body, screaming at people to confess. I saw my own cyan suit covered in my blood.
I saw others in the room too; people I hadn't noticed before. I saw Pink, Purple, and Orange- the real Orange; their bodies translucent compared to the surrounding cafeteria
I was overjoyed to see them. In a flash, I hugged them all, piling them into a group hug.
I didn't care that I had died, or that the impostor was Orange, or even that Orange had betrayed me.
I was just glad to have my friends back.
About the Contributor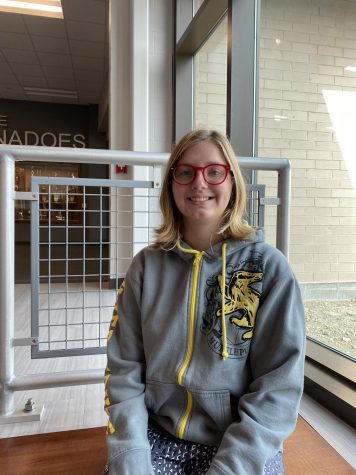 Brynn Blickenderfer, Staff Writer
Brynn Blickensderfer is a first-year writer for the Dover Crimsonian crew. She plays trumpet for the high school band and is a first-time cellist for the...