2020-2021 Swim Preview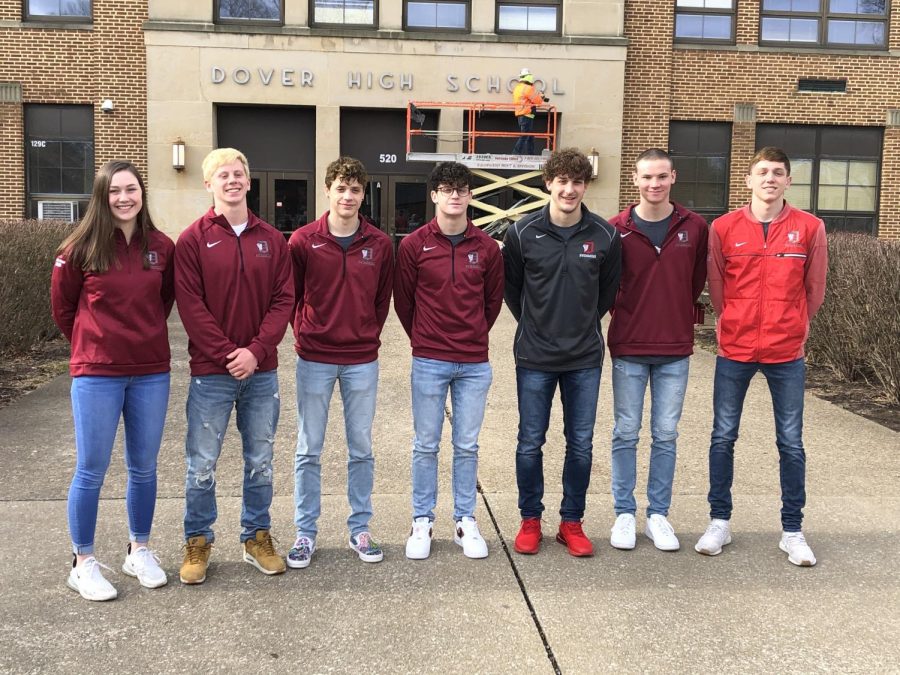 The city of Dover recognizes the current falling leaves as a sign of its transition to winter. For some, this can be a long season of early nights and bitterly cold weather, but for others, the transition to winter is a time to get ramped up about winter sports. This can be said about many Dover swim athletes and fans alike, belonging to one of Dover's most successful winter sports. It seems that the DHS swim team is always bringing in the hardware and sending out athletes to compete at the state championship.
In terms of tradition, this team knows it best and is on the prowl for a return to state once more this season.
Reagan Durbin is looking forward to completing last year's mission when she was the only Dover girl's swimmer attending state along with six solid Dover boy's swimmers. "Personally, I want to drop time in the 100 backstroke and make it to state day two," says the Sophomore who excels in her events. Along with her individual goals, she wants to bring relays to state this year. Another part of last year's fabulous freshmen is Lucas Lane who has big ambitions for his Sophomore year. Lane explains, "I am looking forward to an amazing season with Will McCrate and Blake Sexton as senior leaders. We hope to be top 5 at state in a relay, and personally I would like to win a state event as well as swim an All American cut time." As a freshman who broke the district meet record in the 500 free last year, I'd say he has ample talent and time to accomplish these goals.
Because both swimmers I interviewed have experienced success in the Dover swim program, I thought it would be important to ask how they plan to repeat that success in such an odd year. Like any other year, both swimmers are determined to hit the pool for both morning and afternoon practices which is extremely physically and mentally demanding. "Managing practices is hard, but eating 2,000 calories and sleeping 8-9 hours really makes it easier to handle," says Durbin who emphasizes the importance of getting plenty of pool time. Lane also utilizes his pool time to perfect his technique, as he is nit-picky about his turns and explosiveness off the block. Lane believes the trick to improving as an athlete is time management. Although it is hard to wake up when it is dark and freezing, and many times it is necessary to skip time with friends to get homework done and sleep, Lane is willing to make sacrifices to be the best swimmer he can be, and he encourages his team to do the same so they can all enjoy state appearances.
Lane also encourages social distancing protocols in and out of the pool, thankful to have a season at all during this peculiar year. Both Durbin and Lane are not only ready to continue their progress in the pool but also to overcome the challenges this year presents. Lane credits Coach Wherley for helping the swimmers to adapt to COVID protocol at the same time she continues pushing them to improve their skills, even though their practices have been shortened as a precaution. In addition to shortened practices, attendance at swim meets will also be cut. Durbin laments that "it will definitely be different without our biggest support system, parents, at our meets," but she also is optimistic about Dover's ability to overcome this year's COVID precautions. Included in those precautions, it seems that mask-wearing among swimmers will be enforced as the athletes wait for their events and exit the pool. Although wet masks do not sound pleasant, I'm sure every Dover swimmer is willing to deal with it to make this season possible. Despite the curveball that has been 2020, Dover swim is preparing for their season with the utmost pride.
From what I learned from Durbin and Lane, I believe this year's swim team is more determined than ever to succeed as individuals and as a team. Lane points out, "swimming is a unique combination of both team and individual accomplishments," and he stresses the importance of supporting his teammates. "Whether it be in the classroom, the pool, or just life, if we aren't performing we know about it. We have had more than one come to Jesus conversation on the pool deck," he claims as he proves just how tight-knit the swim program is. This year's swim team genuinely has each others' backs as they work to repeat their state appearances. Lane and Durbin recognize the work put in by their teammates and coaches, and this motivates them to give 110% as well. Dover swim undoubtedly has a team culture that is propelling them off the block and pushing them to strive for greatness.
This team is well-deserving of another great season. Although many will not be able to attend swim meets this year, all Dover students and Dover community members should cheer on their swimming Tornadoes from a distance.
About the Writer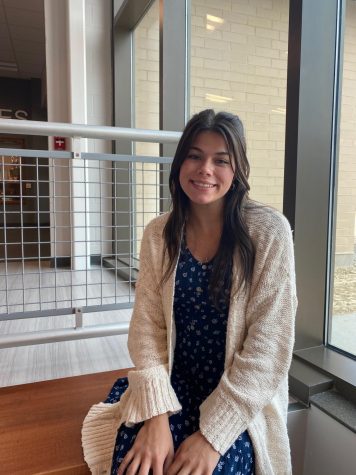 Grace Rivera,
Grace Rivera is a senior and second year member of Crimsonian. She is a Class Officer, a Club of International Awareness member, a Camp Imagine If tutor,...