What's the difference between East Coast and West Coast life in America?
For those of you who do not know me, I was born in California and raised in a small town called Fairfax. Until age six, all I had known was the beautiful terrain, sunny days, and friendly people California had to offer. When I moved home, I did not know that I would be trading earthquake drills for tornado drills. The two lifestyles Ohio and California had were so different that it took a long time to adjust, and I still find myself today comparing my old life to the present.
There are so many customs that I had to give up when I moved to Ohio, like the habit of throwing everything and I mean everything in the recycling. California has a large liberal residency as you may know, so the majority of people take our environment's health very seriously; therefore, a large majority of people put more time and effort into getting facilities that can eliminate some of the garbage in their landfills. Speaking of the environment, I vividly remember going to Brooke Side Elementary School assemblies that focused on pollution. The premises of the assemblies were to convince everyone to carpool with a friend because it was a way to save gas from entering our atmosphere and keep air pollution under control. It is safe to say that it was weird to move to Ohio where the community is not as involved in everyday life for the better (even if it was a little obsessive). As of now, the little town that I grew up in has made plastic bags, styrofoam, and other materials in restaurants and grocery stores illegal. Meaning you cannot go anywhere without having to use one of those compostable straws that get immediately soggy. Not only did they care about the environment's health, but I remember hearing about the mothers that would complain so much about the schools letting people bring in unhealthy snacks. They finally had to make a rule not allowing students to bring in anything unhealthy for their classmates.
If I still live there today, football games on a Friday night would not be something I would regularly go and watch. It might be hard to imagine, but most kids in California have not gotten to experience the "triumphs and defeats, epic highs and lows of high school football." I asked my good old friend Tristan from my old town who goes to Drake High School now, and he said "our school probably values soccer and basketball over all the other sports played," and they even offer a larger variety of sports like a lacrosse team.
Did you know that most of California does not get snow? So, that means that they have never worn their PJ's inside out or put a spoon under their pillow in the hopes of getting a snow day. In order to make up for the number of snow days that East Coast schools get California has ski week. Which is just like spring break, but everyone goes to the snow instead of the beach. The layout of the schools is also far more different than Ohio's. Since earthquakes are a common occurrence in California, you will never find a school that has more than one story, and most of the schools do not include hallways. The weather is always perfect, so most schools just have the classrooms connected by a courtyard or an overhang that is all outside.
Even after living in Ohio for ten years, I still dream of living back in California. You will find that there is truly no other place filled with so many people that care so strongly about what they are passionate about. The people, places, ideologies, and cultures in California are far different from the normalities we have in Ohio, and I am glad to have known both areas growing up. There is a large difference between living in a small town in Ohio and a small town in California, and even if both might seem like polar opposites, they will always have a special place in my life.
About the Contributor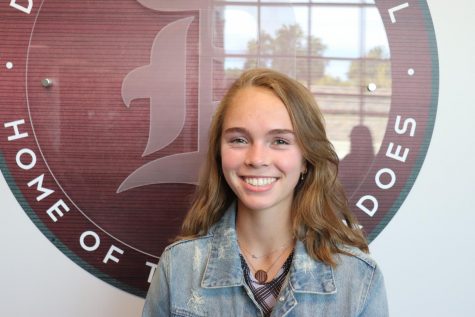 Maisie Dugger, Staff Writer
Maisie is a senior and a second-year member of the Crimsonian Staff. She is a part of the tennis team and plays the violin in the high school orchestra.