Remembering Middle School Fashion
For many, the middle school years are some we would like to forget. In my experience, this awkward stage that joins childhood to teenage years was filled with new experiences, new friends, and undoubtedly, new fashion trends. As I stepped out of Dover Avenue and into Dover Middle School, I wanted to impress my new classmates with my sense of style. In retrospect, my middle school fashion statements definitely made an impact, even if it was not the impact I hoped for. Now, let us go on a trip down memory lane where we will laugh, cringe, and possibly even cry at our past selves' sense of style.
First, to bring back those middle school memories, I will describe sixth grade Lauren's bizarre fashion choices. When I went school shopping as a pre-teen, I liked to have a theme for each year's clothes; my sixth grade theme was wacky pants. Just as the awful name implies, I bought many pairs of crazy pants that year. From neon pink and green leggings embellished with a multicolored cupcake pattern to flowy pants covered in a bicycle and polka dot design, my wacky pants were sure to turn heads. While I am sure some of you can relate to my embarrassing sense of style, we will now move on to trends that all of us took part in.
The first of many middle school fashion trends I would like to forget is the Justice store. On any given day, at least three people could be seen wearing the same Justice shirt, but what was it that made us all love Justice clothes? Was it the overwhelming amount of sequins, the heart that was embroidered on each lace tank top, or the feeling that we were dressed and ready to appear on a Disney show? Whatever the reason, we were all hooked on Justice's cheesy graphic tees and fluorescent leggings.
For the group of sporty middle school boys, the completely neon outfit that consisted of a Nike t-shirt, athletic shorts, and tall socks was a winning combination. And for many girls, the Victoria's Secret Pink shirt, North Face jacket, and Ugg boots style never failed. In my middle-school mind, I thought I was making a statement with this outfit, yet we all dressed the same.
These trends were not limited to clothing; even our backpacks and accessories became trends. In hopes of fitting in, it seemed like a matching Vera Bradley backpack and lunchbox set would launch people into the "cool" group. Also, the Lokai bracelets that were filled with mud and water were fashion symbols to our middle school peers. The more rubber bracelets that filled a person's arms, the higher status they had on the playground or in the cafeteria.
While most of us are happy that middle school is over, it is always fun to look back on the trends that we flaunted throughout those years. Our displays of neon colors and funky accessories definitely made a statement. As Kailie Ross, a senior at Dover High School, puts it, "Let's not relive middle school fashion, but it started with thinking Justice was still the coolest store and ended with me not being able to have enough clothes from Pink. Let's not forget the Bailey Bow Uggs either." Rest in peace middle school fashion trends. You will not be missed.
About the Contributor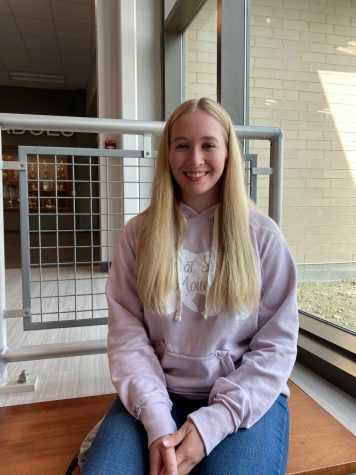 Lauren Jirles, Co-Editor-in-Chief
Lauren is a senior and a third year member of the Crimsonian staff. She is involved in cheerleading, Sparkle, Best Buddies, and National Honor Society.