Crimsonian Rookie
I walked into the room, as a panicked freshman with, at the least, experienced writers, and at the most, expert journalists ahead of me. With sweaty palms, I pretended to fit in amongst the scary seniors. Fortunately, there were other scared freshmen in the room, and they helped with the nervousness. One of the ninth graders was Lauren Grafe and she shares a similar perspective. She said, "When I first walked into Crimsonian the first time, I was thrilled to be part of this group because I knew going in how smart everyone was in here and how good of writers everyone was. I was worried I was not going to fit in because I was a freshman, but I love it and everyone was so nice!" We were all nervous but in the end excited to get to know our new classmates.
The first week carried the same amount of nervousness and pressure, but soon we all began to relax into the group. We began to see the intimidating upperclassmen as fellow writers that wanted to see us do our best. It was easy to melt into conversations with the easygoing atmosphere of the class, and we quickly felt like one of the writers. Brynn Blickensderfer agrees that "every member in the Crimsonian is very fun and accepting". She also appreciates that "because this class is more relaxed than a lot of others, it allows for more bonding and fun conversations." The compelling discussion in the class is a blast to be a part of.
Soon we were going through the process of brainstorming, assigning, and writing articles. The first brainstorm was surprisingly casual. Everyone threw out their ideas whenever they had one. There was no wrong answer because every person in the room had different ideas and perspectives. Writing the assigned articles felt like a different story. I was incredibly nervous that I would hand in a grammatical mess of a piece of writing. However, our chief editors were supportive as we stumbled through the steps as first-timers.
The Crimsonian is a unique learning experience. We practice meeting deadlines, formal writing, and creative thinking in one class period. When the apprehension wears off the process of fitting in while finding a distinctive writing voice is exciting. The feeling of belonging in the Crimsonian came naturally. Its members quickly feel as if they are part of a team with Mrs. Nottingham's relentless encouragement, and the classes' sense of togetherness.
About the Writer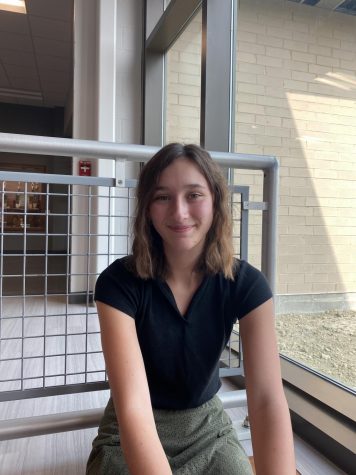 Emma Copple, Staff Writer
Emma is a first year Crimsonian Staff Writer. Her favorite school subject is language arts. She enjoys hobbies that require creativity. Emma's favorite...