Upcoming Disney Movies To Watch In 2021
Disney movies are some of the best movies you could watch. They have so much inspiration and stories to tell in them. Are you constantly bored after doing homework, or just want a new movie to watch? Well, I found some Disney movies that are coming out in 2021. How could you not want to watch a new Disney movie when it comes out? If you're into adventure movies, I found a couple of ideal ones for you.
Flora & Ulysses is much of an adventure and comedy movie. A ten-year-old girl named Flora just witnessed her parents separating. She then rescues a squirrel and names it, Ulysses. She quickly finds out that he has very unique superpowers and they go on adventures together. The main point of the lesson that is learned is that love is not always obvious and it takes time. The other lesson is that friendship comes in all different forms. This movie comes out in February on Disney Plus.
Raya And The Last Dragon is another adventure movie. Raya travels to a fantasy world to discover that dragons and humans once lived together. Suddenly, an evil force threatens the land and people. Between the humans and the dragons, the dragons decided to sacrifice themselves so the humans could live. Five-hundred years later and the same evil force is back. Raya, getting to see this world once, has a mission to track down the legendary last dragon. During this mission, she concludes that it will take much more than just a dragon to help. She will need teamwork and support. This is supposed to air in March.
Do you like the movie Up? Then this is the perfect movie for you. The movie is called Dug Days. This movie follows the adventures of Dug, who is the dog in Up, and the other main character named Carl. He goes on an adventure in Suburbia to explore the area. It's supposed to be a shorter movie.
Jungle Cruise is also coming to Disney in July of 2021. This movie stars Dwayne Johnson and Emily Blunt. They go on a fun adventure to the Amazon jungle. Lily, one of the main characters, is a doctor and is on a mission to find better medicine and runs into a young man named Frank. Frank drives the boat and helps her explore the jungle and find medicine. During this little trip to the Amazon, they both discovered that the Amazon river is not at all what they expected it to be.
Disney's Pixar releases another movie in June called Luca. Luca is a normal, young boy and his best friend is named Alberto. It's summertime and they are down by the beach when suddenly Luca soon comes to the realization that his best friend has a big secret. Alberto is a sea monster from another world but disguises himself as a human when on land.
About the Writer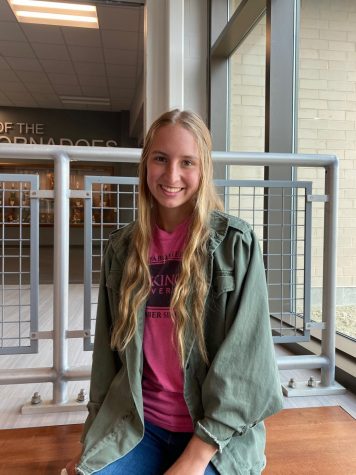 Courtney Rose, Staff Writer
Courtney is a Senior at Dover High School, and this is her first year in Crimsonian.  She is a four-year letterer in tennis. She is also the Student Council...