March Madness Wrap-up
2021 has brought many ups and downs this year. But the one thing I am looking forward to is March Madness. March Madness is one of the greatest events in sports history and continues to be for years to come. Every year is a different year in March Madness, and this year is no exception. North Carolina is not even one of the top five seeds, and Baylor has climbed their way back to the top of NCAA men's basketball.
March Madness is divided into four regions: West, East, South, and Midwest. The bracket is also divided with sixteen teams in each region seeded based on regular-season play and conference tournaments and championships. The number one seeds in the regions are Gonzaga, Michigan, Illinois, and Baylor. Many people were shocked to not see Duke in the tournament this year. This year is a lot different than other years due to the amount of BIG TEN teams in the tournament this year. The BIG TEN is one of the conferences in the NCAA that usually do not have many teams in the tournament. This year is an exception. The BIG TEN has 8 teams representing their conference this year. Two of the teams are one seeds and one is a two seed. Usually, March Madness is dominated by the ACC and SEC so this is a big shock to the college basketball world.
March Madness is, in my opinion, the best sports tournament in the U.S. Part of that reason is the creation of the brackets. People around the world create brackets where they predict who will win what game and who will win the entire tournament. If you are a lower-numbered seed, you are the projected better team. In the entire March Madness tournament, there has only been one sixteen seed to upset a one seed in the first round. In 2018, the UMBC retrievers defeated the Virginia Cavaliers to be the first sixteen seed to ever defeat a one seed. This year, the bracket seems pretty straightforward. There are a few games where it could go either way, but there shouldn't be many upsets. Number four seeded Virginia versus number thirteen seeded Ohio is a game where I would bet on the underdog team to win. Ohio has been on a roll their last few games led by Jason Preston. Virginia on the other hand has been on a downward spiral and are 1-3 versus ranked teams. Virginia lost many games to unranked opponents, and Ohio has shocked many people this year. Another upset game to watch is ten seeded Maryland versus seven-seed UCON. UCON had struggled during the middle of the season but started to find their stride at the end of the year. Maryland played in a tough BIG TEN conference this year and their record was not great, but their three-point percentage and shooting ability is very high. I think Maryland will pull off the win through their offense in a higher-scoring game.
Gonzaga is 26-0, and it is very possible that they go undefeated this season. Gonzaga is 4-0 against top 25 ranked opponents and averages 92.1 points per game. For college, 92.1 points per game is a very high average, and it is actually one of the top averages in the country. They also have one of the easiest paths to the national championship and could easily dominate this tournament. Personally, I have Gonzaga winning it all on my own March Madness bracket. Other than Gonzaga, another team that could make it to the national championship and surprise a lot of people is Oklahoma State. Led by a future early first-round pick in Cade Cunningham, Oklahoma State is a four seed who can shock a lot of people. Cade Cunningham is a very talented player and has solid pieces around him that compliment his playstyle very well. Although they would have a very challenging path to the championship, Oklahoma State has a legitimate shot to win it all this year led by Cade Cunningham. Other than Gonzaga and Oklahoma State, there are only a few other teams I could see competing for the national championship. Illinois and Ohio State from the BIG TEN conference have a chance to go far in the tournament. Baylor and Texas also have a shot with their star-studded big men. All in all, this tournament is going to be interesting with all the title contenders in the mix.
As usual, this tournament will be filled with ups and downs all the way from the sixteen seed to the one seed. This tournament is filled with many five-star prospects headed into the NBA draft and should shape up for a competitive and interesting tournament.
About the Contributor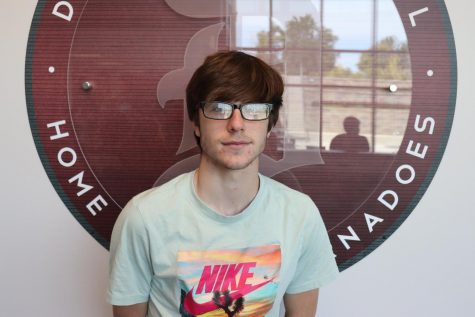 Eric Lanzer, Staff Writer
Eric is a Junior and second-year member of the Crimsonian Staff. He plays wiffleball and baseball and also serves in Interact club. Eric would love to...