How to Approach College Interviews
My heart raced as my eyes darted across my computer screen, reading an email that invited me to interview for a scholarship at one of the universities I had applied to. How, I wondered, would I be able to impress the interviewers when I have no real interviewing experience? The combination of panic and excitement for the opportunity left me perplexed. After calming down and doing some research, I have learned some helpful tips for anyone preparing for an interview.
Many selective universities interview candidates as part of their application process. Also, some scholarships require applicants to interview. Whether your interview is to get into your dream school or to earn a scholarship, all interviews have one common goal: getting to know you. Do you have a college or scholarship interview looming? Do not panic; I have a list of tips to ace your interview!
Practice common interview questions.
College interviewers simply want to uncover more about you. This is a chance to show the interviewers additional information to what they can discover on your application file. In order to accomplish this, many interviewers ask similar questions. If you practice your answers to the following questions and include examples to support your response, you will be all set to impress the interviewers! Remember that these questions are just examples; you could be asked anything. In other words, you should be prepared to be caught off guard by some questions. A great way to be ready for any question is to think of the interview as more of a conversation than an interrogation. Let your answers flow naturally!
1. Tell us about yourself.
2. Why are you interested in this college?
3. What is an example of a challenge/obstacle in your life, and how did you overcome it?
4. What do you enjoy doing outside of school?
5. What are you studying in college, and why does it interest you?
6. Where do you see yourself in five to ten years?
7. Who are your role models?
8. What do you want to pursue after graduating from college?
9. What is your favorite school subject?
10. What are three adjectives that describe you?
Do mock interviews with a friend, family member, or teacher.
Practicing mock interviews with someone you feel comfortable with will develop your interviewing skills and prepare you for your big day. Your mock interviewer can ask you common interview questions like the previously listed ones, and you can practice answering honestly and naturally. Have your friend or family member give you feedback to help you improve. The more you practice, the better you will get!
Be yourself but remain professional.
The best piece of advice I can give is to be yourself! The interviewers want to know what makes you tick and what your unique personality can bring to their campus. You have amazing qualities, and whether you have an uncommon hobby or rare interests, you should show them to your interviewers. Also, while it is important to be yourself, you must also remain professional. You only get one opportunity to make a first impression, so be polite, smile, and dress in something professional that makes you feel confident. A great way to make a good impression on the interview team is to follow up with a thank you note. This is polite and might help you stand out.
Arrive prepared with questions for the interviewer.
At the end of the interview, you will be asked, "Do you have any questions for me?" You should never answer no to this question. Your interviewers are almost always alumni, current faculty, or current students at the university, so utilize their experiences! Some great questions to ask are: "From an insider's perspective, what are some things you really enjoy about this college,?" or "What advice would you give incoming freshmen?" This is a great opportunity to find out more about the school to see if it is a good fit for you. Also, most people love to talk about themselves, so your interviewers will appreciate your questions.
The interview can only help you, not hurt you.
While the interviewing process can be intimidating, it is mostly a way to expand your application and show what your passions are. Even if you do not get accepted into the college or earn the scholarship, this opportunity will prepare you for future interviews. Remember that the interview can only help you, not hurt you.
Most importantly, you should take a deep breath. Your interviewers want the interview to go well too, so you should not be too worried. If you stay calm and remember to be yourself, you will ace your interview. Good luck!
About the Contributor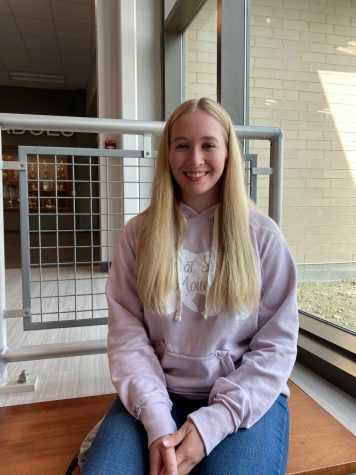 Lauren Jirles, Co-Editor-in-Chief
Lauren is a senior and a third year member of the Crimsonian staff. She is involved in cheerleading, Sparkle, Best Buddies, and National Honor Society.