Wrapping Up the Basketball Seasons
It's here. Sadly, the day has come where both the girls' and boys' basketball seasons are finally over. Both seasons were amazing despite the protocols that had to be followed to protect the athletes, coaches, fans, and officials. These seasons were different from anything the school has ever seen or experienced before; the pandemic caused restrictions to be placed on what these seasons would normally look like. It definitely took some getting used to, and adjustments had to be made. However, we are fortunate to have had a season at all this year, and I think I speak for others when I say that these seasons were so much fun regardless of quarantines and other obstacles.
The girls' basketball team ended their 13-10 season as Division II District Runner-Ups, a feat that hasn't been accomplished in 9 years. The team grew and got better throughout the year in spite of Covid affecting the season. The girls had to work through quarantines, multiple injuries, and limited numbers, but they didn't let that get in the way of having a fantastic season. Hannah Neff, one of the seniors, had this to say about her final season: "This season has been the best one that I can remember so far. For all the challenges we've had, we handled it in the best way we could. I'm so proud of my team, and I can't wait to watch them next year to see what they can do for the basketball program." Lia Conner, another one of the seniors, commented on the season as well. She replied, "This season was by far the best one yet. I couldn't have asked for a better coaching staff. They did an amazing job with the team. I'm so thankful I got to end my career playing alongside the best teammates anyone could ask for." I couldn't agree more with my teammates. Despite the pandemic altering certain aspects of our season, we fought through it and continued to get better, and I'm so glad we stuck with it. It was all worth it in the end.
The boy's basketball team finished their season as Division I Sectional Champs with an 18-5 record. Their incredible season didn't come easy, however, as the team had to work through multiple quarantines and rescheduling of games to make it work. The season also looked different as the gym was not as full as what the boys are used to. There was no student section, and there was a limited number of people in the stands. This did not stop the boys. They continued to play well when they could, and they stuck together while doing it. Isaiah Shaw, a senior, remarks that "Covid may have put a dent in our season, but we still had a great year! I will always be a Dover Tornado." This season was an anomaly, but the team kept working hard, and it paid off.
Another sport that was over with the ending of basketball season is cheer. This year, thankfully, the girls were still able to participate at boys' games, despite the new regulations and protocols that greatly reduced the number of people allowed in the gym. With no student section and only cheering at home games, this season looked a lot different for the cheerleaders, but they continued to stay optimistic. Maddy Smitley, a senior cheerleader, commented on the season by saying: "We made the best out of a bad situation, and I wouldn't have wanted to do it with any other squad." In addition to cheering at the boys' games, selected cheerleaders were also permitted to enter the state competition for competitive cheer this year. With Covid, many more obstacles presented themselves this season as the girls had to work around teammates being quarantined, as well as having to attend virtual cheer competitions for the first time. However, the girls didn't let these obstacles get in their way; they finished 3rd in the state in Division III, the highest place by any Dover cheer squad. Leah Locke, another senior cheerleader, had this to say about her season: "As a sophomore, I was part of the first DHS competition cheer squad, I am so proud of how far we have progressed over the course of 3 years… I was so excited to end my senior year with this great accomplishment [of placing 3rd in the state] with my amazing team and wonderful coaches."
Overall, both basketball teams and the cheerleaders have had a wonderful season despite the pandemic. We can only hope that next year's seasons will be just as great – or even better. Go Dover!
About the Contributor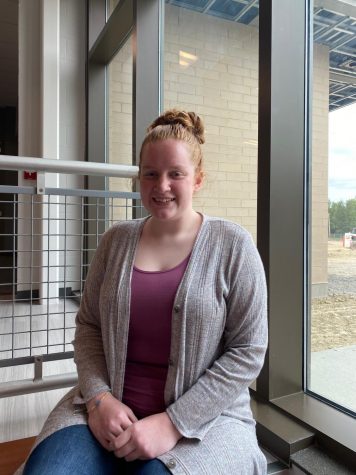 Tori Shankle, Staff Writer
Tori is a senior and a second year Crimsonian member. She participates in student council, Concert Choir, Ars Nova and is a member and officer of National...