Boys' Tennis: Serving Up A Season
The Coronavirus ruined the 2020 boys' tennis season. When practicing the week before the original tennis season, their hard work and determination was soon destroyed. Although COVID did cancel last season, the boy's tennis team is back and determined to finally get to play this year. Each and every single one of the boys has been practicing in the off-season to improve their tennis skills.
This year, they have sixteen boys on the tennis team. This includes one freshman: Aiden Springer, four sophomores: Zach Cooper, Jay Dorris, Micah Lint and Matt Wolfe, five juniors: Nicholas Castricone, Ethan Kopp, Jacob Murphy, Daniel Pfeiffer and Quentin Troyer, and finally six seniors: Ethan Aljancic, Breckin Bigler, Ian Bleininger, Isaiah Shaw, Camden Springer, and Carter Zeedyk. They are coached by head coach, Ben Bartholomew, and assistant coach, Sierra Sandy.
Each of the coaches were interviewed about this tennis season. I asked Coach Bartholomew:
How do you think this upcoming season will go?
His response: "I am confident that we're going to have a fantastic year because we have such a great group of players."
What are you most excited about for this season?
His response: "I am most excited to see the team have an opportunity to compete. Last year, the team put a tremendous amount of work in to prepare for the season that COVID ultimately stripped away. They've been preparing for this season for two years now, and I can't wait to see it unfold."
I asked Coach Sandy one question:
Since it's your second year as the assistant coach, (actually first year due to covid), what are your goals for the team?
Her response: "The two biggest goals I have for the boys this season are to have fun and give it their all. They came out last year so amped up and ready to go, and then their season got cancelled. It was heartbreaking to see that happen to them. But this year, they are back and better than ever. We have a very strong team who is ready to show everyone the work they put in, in the offseason. If there is one takeaway from last year, it's to not take anything for granted. We are trying to make up for lost time right now, so my hope is that the boys stay healthy, have fun, and give it their all. This is their season to shine."
I also asked some of the seniors to answer a few questions too. I asked all of them the same questions. Here are a few responses:
In your opinion, last season got cancelled due to COVID, do you think you made bigger goals or have higher expectations?
Breckin Bigler: "I think so because I have to make up for last season's loss."
Being Seniors, what advice do you have for the underclassmen or people who are thinking about playing tennis?
Carter Zeedyk: "For beginner players: Tennis is one of those sports where the more you play the better you get. So just go out to the courts every nice day you have and just have some fun. For people thinking about tennis: Join! It's a difficult sport at first but it gets easier. It's also not insanely physically challenging, so anyone can play! I quit running track for it and it was one of the best decisions of high school."
Ethan Aljancic: "The biggest thing is to have fun, but if you are wanting to bring your game to a higher level, I'd say just go out and play with people. Go out as much as you can, you don't have to spend a ton of money on private lessons, just play with your friends and have fun!"
What are you most looking forward to this season?
Ian Bleininger: "I am most looking forward to my last season competing and seeing how far this team can go. We have a lot of talent on the team this year!"
About the Contributor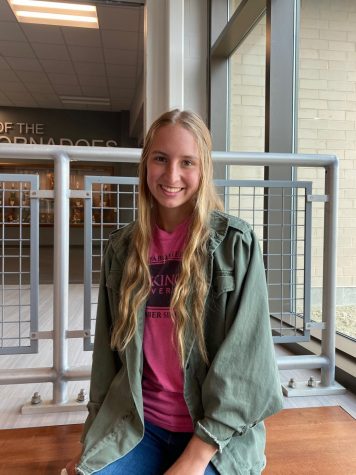 Courtney Rose, Staff Writer
Courtney is a Senior at Dover High School, and this is her first year in Crimsonian.  She is a four-year letterer in tennis. She is also the Student Council...