What to Expect for Prom 2021?
As many know, this has been a very unusual year with many uncertainties. Two of the big ones were homecoming and prom. We were not able to have a homecoming this year, and not many expected there to be a prom. Dover was also not able to have a prom last year for Covid reasons. Because of this, seniors were really in hope for a prom this year because the people who didn't get asked as sophomores have never gotten the chance to attend a prom. Dances are a huge part of a kid's high school experience, and as younger kids, that's one thing you look forward to. Everyone is really looking forward to prom this year and buying dresses! The theme this year is "Night in the Clouds".
Under the given circumstances, there will be some changes to this year's prom. A big one is the location. In past years, it has been held at the Performing Arts Center. They are not scheduling anything there as of right now, so for the first time in years, we will be holding prom at our very own high school. There will be people in the gym and in the commons. A senior, Sammie Giammo who attended as a sophomore said, "The location change is one of the only big things that's changing this year due to Covid". Yes, we still get to have walk-ins, but the capacity will be much smaller this year, and it will be held in the auditorium. Before, it has been at the PAC unless it rained. There will also be masks, as figured. This was a very well-thought-out plan, and all of the kids will have fun, but kids will be safe.
Even with Covid this year, we are still able to keep a lot of things the same from past years. We will still be able to have walk-ins, which is a big deal to parents and some kids because that is part of the prom experience. The girls will still come in their beautiful dresses, and the guys will have their suits and ties. The music will still be loud and there will still be some good songs. Solid Rock will be there taking pictures of the couples. Most of all, everyone gets to dance and just have a fun night with all their friends. Dover is so thankful to get to be able to have a prom this year and the staff is working so hard to make this happen!
About the Contributor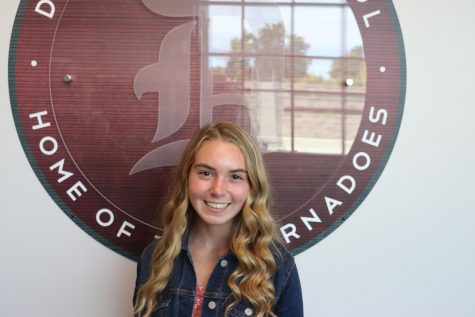 Lauren Grafe, Staff Writer




Lauren is a sophomore and a second-year member of the Crimsonian Staff. She participates in soccer, dance team, choir, Ars Nova, and Interact club. ...