Dover Swim: A State of Success
Earlier this year I previewed the upcoming swim schedule, and it was easy to see that this year's swimmers were going to make waves. Despite fears of COVID undermining their chances of making it to state, the swim team prevailed through hard work and adapting to COVID precautions. Sure enough, the swim team propelled themselves to a historic season that head coach Brenda Wherely says was "one of the most successful swimming seasons" in the last 30 years. This year both the boys' and girls' teams finished 1st at Sectionals. At Districts, the boys' finished 1st while the girls' placed 4th. Then it was time for the teams to prove themselves at State, and they did.
Girls' Swim
Four girls' swimmers qualified for the State Championship in Canton this year. The team had a record of 12-2 after a very successful season. Sophomore Reagan Durbin says that they found "who had what it took to train like there's no meet left" in order to push all three of their relays to State. The grit and resilience exemplified by the girls not only created life-long bonds but also set them up for success at State. The girls' brought home 40th place overall and placed in the following events:
200 Medley Relay, 1:54.30, 18th Overall (Reagan Durbin, Cassy Connare, Holly Perkowski, Sydney Selinsky)
200 Freestyle Relay, 1:41.89, 12th Overall (Sydney Selinsky, Annie Wright, Reagan Durbin, Holly Perkowski)
100 Backstroke, 1:00.57, 19th Overall
400 Freestyle Relay, 3:45.69, 17th Overall (Reagan Durbin, Riley Schie, Holly Perkowski, Sydney Selinsky)
The 200 Freestyle Relay swam by Sydney Selinsky, Annie Wright, Reagan Durbin, and Holly Perkowski earned All-Ohio Honors.
Boys' Swim
Five boys' swimmers qualified for State after a phenomenal season with a record of 13-1. Senior Will McCrate praised his teammates and the coaching staff for "the most special, memorable season" he has ever been a part of. The senior also commented on the sacrifices the team made all season long to ensure COVID would not get in the way of their postseason. Between the coaching staff's leadership and the swimmers' dedication to each other and their goals, the swim team was able to accomplish monumental postseason success filled with PRs, All-Ohio Honors, and State appearances. The results of the events the boys participated in are as follows:
200 Medley Relay, 1:38.53, 8th Overall (Blake Sexton, Will McCrate, Lucas Lane, Blaze Burris)
200 Freestyle, 1:39.66, STATE CHAMPION, Lucas Lane
100 Freestyle, :46.38, 3rd Overall, Lucas Lane
100 Backstroke, :52.33, 7th Overall, Blake Sexton
400 Freestyle Relay, 8th Overall, All-Ohio Honors (Blake Sexton, Simon Lorentz, Will McCrate, Lucas Lane)
The 200 Medley Relay consisting of Blake Sexton, Will McCrate, Lucas Lane, and Blaze Burris earned All-Ohio Honors as well as the 400 Freestyle Relay consisting of Blake Sexton, Simon Lorentz, Will McCrate, and Lucas Lane. Lucas Lane's two Freestyle events and Blake Sexton's individual 100 Backstroke also earned All-Ohio Honors. Congratulations to all of the Dover swimmers who earned All-Ohio Honors!
In addition to All-Ohio Honors, sophomore Lucas Lane secured the title of State Champion for the 200 Freestyle. This was one of the goals the sophomore had set for himself when I asked him about the upcoming season in the fall. Now it seems that his new goals will be to repeat his State success and continue competing for an All-American title. Congratulations Lucas!
The swimmers were not the only decorated Dover Swim members after this season. Head Coach Brenda Wherley was named Division II Boys' Coach of the Year. Wherley is "incredibly proud to work with such amazing student-athletes," but it seems the gratitude goes both ways as her swimmers praise her leadership, whether it be in the pool or on land. Both McCrate and Durbin wanted to recognize Coach Wherley for her contributions to the past and future success of the program as well as the positive team attitude she has instilled in her swimmers. Although Coach Wherley is stepping down from head coach after this season, she has made a lasting impact on Dover's swim program and the incredibly successful swimmers she has coached over the past 30 years. Congratulations to Coach Wherley on Boys' Coach of the Year as well as a long and special career as head coach.
Finally, congratulations to this year's swimmers. Whether or not they went to State, all of Dover's swimmers worked together to make this season possible and to push each other to be their best. As a community, we should all be proud of the success and positivity the swim team has accomplished over the years and during a year of uncertainty. The future is bright for the Dover Swim team.
Thank you to the swimmers for the pictures.
About the Contributor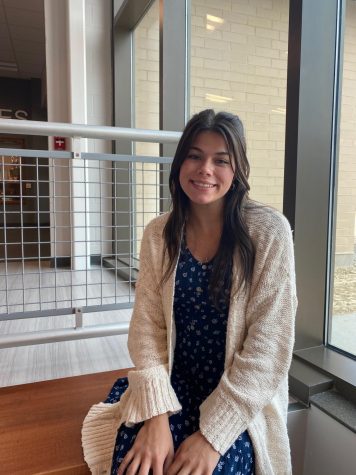 Grace Rivera
Grace Rivera is a senior and second year member of Crimsonian. She is a Class Officer, a Club of International Awareness member, a Camp Imagine If tutor,...