What is Crimsonian, Exactly?
I have been writing on Dover's Crimsonian staff for almost one school year. During this time I have had the chance to peer over shoulders to see the hard work that our team puts into our school's newspaper website.
We have skilled photographers with good eyes that attend our sporting events, gather people for spirit week pictures, and photograph school functions such as Prom. The writers churn out articles that address topics that range from what is floating around the hallway to worldly news. We collect our school spirit on the "Voice of Dover High School."
This website is a polished final copy of our accumulated work. There is a perfected system behind the finished product, and it begins with the brainstorm.
Everyone gets creative and puts their best ideas forward. Conversation is open and we keep it flowing while waiting for inspiration to strike. A few days are taken to peruse the hot topics and the latest news. When enough ideas are submitted our Co-Editor-in-Chiefs assign everyone two articles, and we get to work.
Deadlines are set for a week or two later. During this period the classroom lulls in and out of discussion as conversational distractions come and go. If we are lucky someone asks a question that turns into a small grammar tip from Mrs. Nottingham.
After completing these assignments we look again to our Co-Editor-in-Chiefs for edits and reviews. The last step is to completely finalize it by adding a picture and a few missing commas. Lastly, following one final read through they are pushed live to the website. Seeing your name beside the words "written by" is extremely satisfying. It makes the work and time put into the process more than worth it.
Our classmates thoroughly care about the quality of their work, and seeing them strive to do their best is encouraging. If you enjoy writing and plan on pursuing it in any format after high school it is a very beneficial class coupled with valuable experience. The persistent routine practices consistency. Deadlines teach time management and responsibility. On the surface the Crimsonian creates the school's newspage, but in the classroom, we learn from anyone that sits behind a desk.
About the Contributor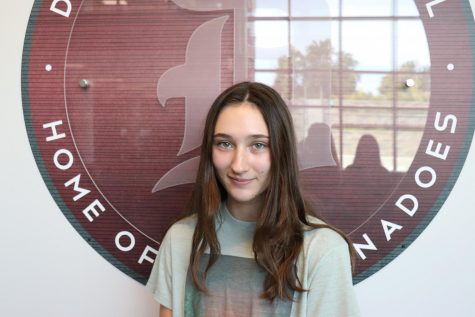 Emma Copple, Staff Writer
Emma is a second-year Crimsonain sophomore. She fills her spare time with art and is academically passionate about language arts. Her hope for the future...