The History of Peppa Pig
Avid Peppa Fans, this article is for you.  Those less familiar, or perhaps, skeptical of Peppa Pig's power, read on.  Following the life of a pig in a colorful, bright 2D environment can bring joy to many. She is a creation adored, though few know her full history.  Hers is a show that brings tears to the eyes and a connection to the heart in a mere five minutes.  She is a treasure not to be missed.  The history behind this magnificence of a show may be overlooked, and so it is my duty to inform you, devoted reader, of the history of Peppa Pig.
Peppa Pig is, as we know her, four years old and excelling in her life as a preschooler. She slays in her one-of-a-kind solid scarlet dress that fashionably beats anyone in the show. Her occasionally-featured yellow rain boots and coat capture the imagination. Peppa first blesses the eyes of humanity on the faithful day of May 31, 2004. The usual routine of the episodes presents Peppa either attending school or visiting family and friends in innumerable trips to the beach, playground, picnics, or other lovely activities. Peppa embodies a joyful and cheeky personality, which makes her a very likable character. She presents leadership and a love for joy.  She helps reflect the value of friendship and models leadership. Although she may face complications in some episodes (let us not forget the quarrel with Suzy Sheep in episode 95), she always finds a solution to the problem and remains positive. Peppa's actions inspire good character in others, and her loving personality is the essence of the show.
Those responsible for the creation of Peppa are the animators Mark Baker and Neville Astley, and Phil Davies, as the producer. The developers of such a masterpiece wanted to make the series from Peppa's perspective. When creating the show, they took into account children's views and actions. They understood that children don't like laughing at themselves, but at their parents.  So incorporating Mommy and Daddy Pig allowed for a lot of safe jokes, without the expense of Peppa or her friend's feelings.  They felt having animal characters portray human characteristics was a responsible choice because it allowed the show to take a step away from the real world. Peppa as a pig gives clearance for the messy, fun, and silly parts of life and helps provide a comical and cheerful worldview.
Peppa Pig is a solid six seasons and consists of a total of 329 episodes. That means that just counting regular episodes alone, you can spend 1,645 minutes of your life dedicated to Peppa Pig. Additionally, with the specials, the number of minutes well spent in Peppa Pig bliss increases. With the new season expected in March 2022, Peppa's continuous fame is bound to expand and additional Peppa content will bring delight to her followers. When you feel the need for comfort and a trend towards the positive in life, turn no further than Peppa Pig.  Six seasons of joy and counting.
About the Contributor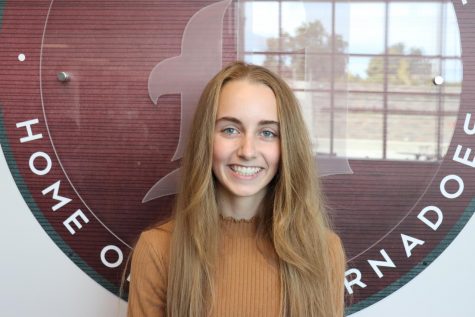 Emily Daniel, Staff Writer
Emmy is a freshman and a first-year member of the Crimsonian staff. She is involved in orchestra, cross country, and track. She enjoys muffins, anime,...