Are You Planning on Getting the Netflix Fix or Does Hulu Have You?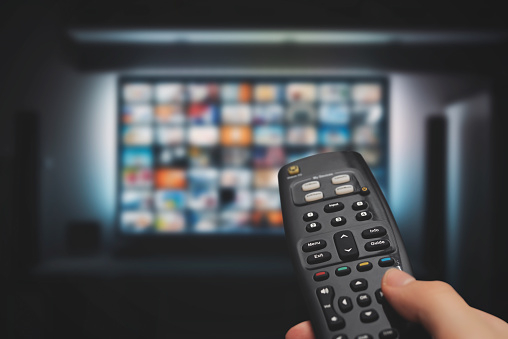 It's 2021, and cable TV is dead, but people's love for motion pictures is still very much alive. Streaming services have made it possible for one to enjoy any show or movie of his/her choice free of advertisements (for the most part). There are over 200 streaming services available today, but for the purpose of this article Netflix and Hulu will be explored. While Netflix and Hulu are both companies that serve to accomplish the same goal, providing endless hours of TV consumption, the differences in benefits and disadvantages are plentiful.
To begin, Hulu is on the smaller side with around 1,650 shows and 2,500 movies from which to choose; however, Hulu offers still-airing TV show episodes with weekly releases. Some of Hulu's well-known shows include the following:  The Act, American Horror Story, One Tree Hill, The Handmaid's Tale, and This Is Us. Hulu's large selection of reality shows is what really sets it apart from its competitors. From The Demilio Show and Keeping up with the Kardashians to Shark Tank and Survivor, Hulu does not disappoint a viewer's reality drama needs. 
In terms of cost, there is a variety of prices one can pay to enjoy this streaming service. The cheapest option is $5.99. This plan includes all the shows and movies Hulu has to offer, but ads are included. For no ads, there is a $12.99 option. For those who are into watching sports and award ceremonies, there are options that include live TV along with the Hulu subscription which is $64.99 or $70.99 without the ads. 
Along with popular shows, movies make up a vast majority of Hulu's library. With over 90 genres, it is not hard for anyone to discover their favorite movies. Some of Hulu's well-known movies are Good Will Hunting, The Wolf of Wall Street, Little Women, and She's All That. Hulu also has an intriguing documentary selection: Blackfish, Confronting a Serial Killer, 20,000 Days on Earth, and Three Identical Strangers (This story is actually so crazy, 10/10 recommend). Hulu's original movies include Minding the Cap, Palm Springs, Happiest Season, and Run.
While Hulu has much to offer, so does the streaming options offered by Netflix. Netflix has over 1,500 originals since it began producing in 2013, and around 15,000 universal titles that become narrowed down depending on the different packages. They have created popular shows like the following: Stranger Things, Outer Banks, Squid Game, Bridgerton, The Umbrella Academy, and countless others. Along with their successful originals, comes their wide variety of featured films and shows. This includes several films with different backgrounds, themes, ideas, and settings that anyone is bound to find something they like. 
Considering the cost of Netflix, the monthly cost of the Basic subscription is $8.99, then $13.99 for the Standard, and $17.99 for the Premium. So far, Netflix has made over 14.5 billion dollars in 2021 alone. A fellow Dover High School student Sheyla O'Donnell shared her opinion on Netflix saying "I like Netflix more because Hulu makes you pay more for the shows and movies." It is also predicted that the worldwide subscription number is around 208 million people meaning that Netflix owns 19% of the global digest streaming market. Did you know that the total time spent on Netflix by all of its users can equal a total of 1 billion hours a week? With all this time spent on Netflix, one might ask themselves, what is everyone watching?
First off, we have the ever-growing and popular teen romcoms such as He's All That, To all the Boys I've Loved Before, The Kissing Booth, and The Perfect Date. Two out of four of these titles have Noah Centineo as a part of the cast, so if you can find him, you can find a cheesy teen romcom. The next category is very similar to the previous one, which comprises the 2000s chick flicks including Legally Blond, What a Girl Wants, and Mean Girls 2. My favorite of these categories is the supernatural/adventure shows including The Society, Manifest, The 100, The Vampire Diaries, Shadow and Bone, and Outer Banks. Lastly, there are shows that are so bad and embarrassing that you can't help but watch the train wreck. This includes: Riverdale, Never Have I Ever, Ginny and Georgia, and Glee. These titles are just the tip of the iceberg similar to the one that sank The Titanic, which is also a movie that was just added to Netflix this month. 
With thousands of options for a date night in or a movie day with your family, one cannot go wrong with either Hulu or Netflix. Each has its own signature look and feel that appeals to a vast group of people. Hulu is definitely specialized in those timeless reality shows that keep the attention of the viewer for 20 years. Then there is Netflix who likes to dig its hands in the actual production of either widely popular or massively disastrous films. Many have their own views on this matter regarding which app is better, without actually experiencing the perks of owning both. Hopefully, both perspectives are able to give you a better idea of what each platform provides and specializes in for the ultimate streaming experience.