Thanksgiving Dinner Convos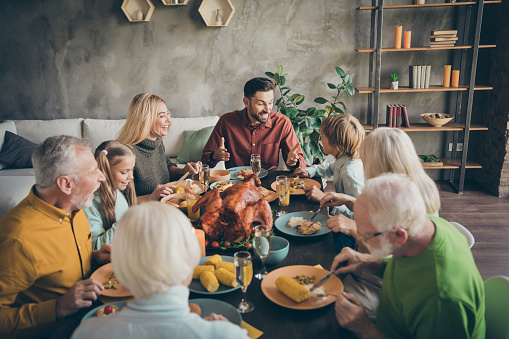 If your Thanksgiving dinner is anything like mine, you'd know it's hectic. I don't know about you but, at the Rose household, we always end up on the topic of funny memories. Different conversations go about between the adults, teens, and the little kiddos. That's one of the good things about Thanksgiving besides the good food: you get to pick which conversation interests you the most. And if you don't like it, there are plenty more to choose from.
           As a teen, my sisters and I talked about a lot of topics during Thanksgiving dinner. From clothing and stories of when we were younger to talking about school and sports, I think we can all agree that the kids' table is way more interesting than the adult one. I mean who wants to talk about boring stuff. Freshman Mycah Freeman says this, " This is very true especially coming from a teen, the kids' table is the one to be at. You can talk about all different kinds of things, good and bad".
          At the kids' table, there are many different kinds of topics. More so of just talking about grand plans to fling food across the room to annoy the adults. Do you blame them? I mean you were a little squirt once too, probably planning to do much worse than throw food across the room.  You only get a choice between screaming little kids or talking ones… for me, that's an easy question. When they get to the dessert, they go wild. Most likely trying all the other kids' desserts to see which one they like most. Following that is a sugar rush. They run around and cause trouble and bug the older kids. The good part about a sugar rush is the sugar crash. That's the best time the kids go silent or need a nap. Either works; I know I wouldn't complain.
          Then next thing you know, you're a teenager. Talking about high school and or maybe college, shopping, Tiktok, pretty much anything. You have kids on Tik Tok during dinner or talking about a funny Tik Tok they saw that made them laugh. They talk about new places to shop, where they got their clothes from, and in all honesty, they are probably online shopping as everyone is eating, talking about placing their next big order for their closet. 
          Then you get to the boring stuff with all the old people. For the mom, aunts, and grandmas they talk about their husbands, children, and then the really boring stuff about how they made all the delicious food. They sometimes even exchange recipes because you know right after Thanksgiving you're eventually going to get tired of leftovers and want something for dinner, and you should know your mom is gonna take advantage of that. Be grateful it isn't a crockpot meal. Like when you come home from a really long day at school and you just want some good food to eat. You walk through the door and the next thing you see is that crockpot sitting on the counter looking right at you.
           For the dads, uncles, and grandpas, they talk about sports, specifically how well they're doing in Fantasy football. Let's be honest, they all seem to migrate to some sort of device. A TV, computer, Ipad, anything that has access to a sports game or something interesting on TV. Occasionally,  they talk about their friends and work but if they do it's not for a long extended period of time. They'll make fun of each other for how bad they're doing in fantasy football, but you have to keep an eye on them otherwise they'll eat all the food. That's all just based on my Thanksgivings but I bet I'm not the only one who has had similar experiences. At the end of the day, Thanksgivings are just a way to make more memories.