Mary's Story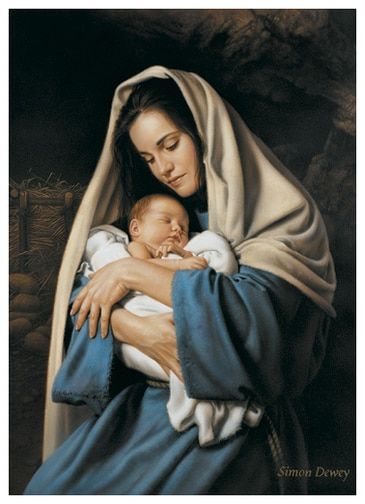 "And Mary said:
My soul proclaims the greatness of the Lord,
47 and my spirit has rejoiced in God my Savior,
48 because He has looked with favor
on the humble condition of His slave.
Surely, from now on all generations
will call me blessed,
49 because the Mighty One
has done great things for me,
and His name is holy." 
Luke 1: 46-49
            Most people know the true story of Christmas. Many have turned up the modern-day songs and know the tale of the sleeping baby in the manger surrounded by animals. Many understand why Christmas came to be and have heard the story of the Holy baby time after time. However, most people certainly do not know the story from my point of view. Most people don't know my story.
            I was simply a teenage girl before my life was flipped upside down. As a child, I never imagined that I would become a Biblical celebrity or that I would ever give birth to the King of Kings. Back then, I was just a teenage girl. I had grown up learning to love the Lord and worship Him. I had fallen in love with a great man with the same values as me, and at that point, I thought I knew where God had intended for my life to go.
           Therefore, I certainly must have been dreaming when one day I came across the face of the angel, Gabriel. I had been tidying up my abode when I felt the presence of another being. With fear, I had looked up to see the most beautiful yet frightening face of a truly Heaven-sent angel. I remember dropping the item in my hands as I looked up at the figure in awe.
            I remember beginning to pray as the angel told me not to be afraid and said, "You will conceive and give birth to a son, and you will call him Jesus. He will be great and will be called the Son of the Most High." I pinched myself as I attempted to wake up from this dream. I knew in my mind that there certainly was no way that I, myself, Mary of the town of Nazareth, could be pregnant with a child.
           I had looked at Gabriel and asked, "But how? How can this be, since I have not been intimate with a man?" And just at that moment, millions of thoughts flooded my young mind. I anxiously wondered how this could be that a literal angel stood before me in my own home and told me that God wanted me to give birth to a little boy. I instantly wondered what Joseph's thoughts would be. Oh, at that moment, all I wanted was my own mother.
***
            When I had a chance to talk to Joseph, it seemed tense at first. I was praying that he would understand. I still was in shock by the fact that I was pregnant with a son. I remember the first look on his face. It was not necessarily disappointment or hurt, it was confusion. He became skeptical about our upcoming marriage. I didn't know what to do to fix it. I prayed that God be with us.
             A couple of days later, Joseph woke up one morning and immediately came to my home to say, "Mary, I fully believe and trust you! The Lord. . . He spoke to me through a dream!" He told me about how the Lord and His angels had told him in his sleep about my pregnancy. He promised to be by my side the whole time and promised to be a great husband to me and a father figure to my son. We had both come to terms with the fact that this was God's plan. At the end of the day, I was honored that the Lord had chosen me to bear the King of Kings.
              As my pregnancy progressed, difficulty increased. Many people did not believe my testimony, but I stayed strong as I knew that God had a reason for everything. I knew that He loved me and that Joseph did as well. I prayed that my soon-to-be son would as well.
***
              Several months later, Caesar Augustus released a decree. He stated that the whole empire should be registered. Joseph knew that he needed to return from Nazareth to the city of David, called Bethlehem, because he needed to be registered with me.
               I was scared when I found out about the journey needing to be had. I knew that I was far along in my pregnancy, and I had no idea when the baby would be born. However, I knew that we needed to follow Caesar's decree. Therefore, Joseph and I set out to Bethlehem riding upon the backs of donkeys.
               The journey was long, but I felt it was valuable time to spend with my husband-to-be before I became the mother to the Son of God. We spent many hours simply talking to one another and praying as we ventured from Nazareth to Bethlehem.
                Once we had arrived in the city of David, something happened. At the time, I felt it was the worst possible thing that could have happened. Now, I understand that it was God's plan all along. While Joseph and I were miles away from home, my water broke. It was time for me to give birth.
               "Joseph, oh, Joseph, it's happening! The baby, He's coming!" I shouted. Joseph hopped off his donkey and pulled mine along with him as he ran across the foreign town to where the inns were. He entered several lodging places as I sat outside waiting. I began to become worried as the contractions continued. I knew if we did not find a place, my baby boy would be born in the street.
              When Joseph finally appeared, I knew by the look on his face that something was wrong. He ran over to me and said, "Mary! All of these inns. . . All of them, they're full because of the registry!" He gasped for air, exhausted. "What are we to do!?"
              I placed my hand on my round stomach and looked around at the small but quaint city. From a distance, I glanced at a stable. I looked at Joseph, and he understood. He pulled the reins of my donkey, and we rode along a short path until we reached the stable. 
             Amongst the calves and sheep, I laid down against a bail of hay as I realized it was time. I felt a few sharp moments of pain, and then I heard the sweet cries of a holy baby. As I saw my little boy's face, I swaddled Him in cloth and held Him against my chest as Joseph peered over my shoulder. 
           "His name is Jesus," I said, looking up at Joseph. I took the small infant and as I noticed an empty manger, I laid Him in it. He fit perfectly on top of the hay as if it were made to be His.
           Jesus' face was the pure definition of radiant beauty. His skin glowed like a star, and His small face instantly warmed my heart. I could feel God's presence surrounding me as I looked into my newborn's eyes. 
           After I recovered from the birth and spent time admiring the baby with Joseph, I was delightfully surprised when I raised my head to look at our surroundings.
           Suddenly, there were many shepherds with their canes and sheep, and I saw men dressed in elegant clothing. I immediately knew they were wise men. With them were camels. The many people and their animals gathered around the manger holding Jesus.
          Our guests told Joseph and I that angels had appeared to them from Heaven and told them about the birth of a Savior, the One who would save the world. They stated that the angels had told them to follow the brightest star in order to meet the Prince of Peace who was born in the city of David.
        I smiled gently and pointed them to my son. I was awestruck at the fact that, suddenly, I had become the mother of the most famous King in all of the land.
          Each of the wise men presented Jesus with three gifts: gold, frankincense, and murr. I took them gratefully and promised to tell Jesus of the story of His birth once He was old enough to understand. 
          From that moment on, it was pure bliss. My heart began to sing as all of the people and animals sat in silence to admire the Son of God. It never even occurred to me that I was sitting in a literal stable amongst people who I didn't even know. For that night, only one thing mattered to me as I sat in the stable underneath the presence of God and His angels. The only thing that mattered was the Heavenly baby peacefully sleeping in a manger.
           It took me many years to witness all of the wondrous works Jesus would go on to do. My very own son went on to walk on water, perform miracles, and ended up being the Savior of the Earth by giving His own life in order to take upon the sins of all the World Jesus Christ will forever be the Prince of Peace, the Messiah, and the King of kings. However, it would have never been if it weren't for the perfect night at the stable. The story of how I came to be the mother of Christ is one that will forever have me in awe. Nonetheless, there is nothing that I will ever be more grateful for than giving birth to the Holy One.