Sports of All Sorts
I asked four coaches to highlight an athlete on their team by writing a small paragraph about him or her. Here's what they wrote:
"Freshman Riley Schie is in her first golf season for the Lady Tornadoes. Through the first month of the season, Riley has really shown a competitive spirit while expecting perfect play from herself. Just through watching her play I believe that Riley's ceiling in the sport is in her own hands. She has the chance to accomplish her own goals and play this game at a very high level. Riley's individual scores have progressively gotten better through the first month of the season. She will continue to see huge leaps in confidence and skill as she seizes the opportunity to get better every practice, match, and tournament. Even with golf being very much individual she is still team first, providing her teammates with support and encouragement every day. Along with her support for her teammates, she possesses great character as she is her own scorekeeper and official for 90% of the issues faced during competition. The character that Riley possesses will allow her to have a very successful high school career in athletics as well as in the classroom." – Coach Felton, Girls Golf
"Austin Dalpe is our top runner. His best time this year is 18:21. He is the only senior on the team. Austin is an outstanding student as well. This will be his fourth year earning a varsity letter. Austin cares for his teammates and runs hard to help the team. He gets along with the boys on the team and tries to help when he can. Austin is a hard worker and willing to go the extra mile." – Coach Sparks, Boys Cross Country
"Whitney Ward will be a 4-year letter winner in soccer. Whitney is one of 3 team captains this season. Whitney plays outside midfield for the team and does an excellent job. Whitney is a natural athlete, and when you combine her athleticism with her soccer skills, this makes her a very talented player. Whitney is aggressive and determined on the soccer field. She works hard during practices which allows her to be successful in each game. In 2018 Whitney was awarded ECOL 1st Team and East District 2nd Team and in 2017 Whitney was awarded East District Honorable Mention. I believe Whitney will have a successful senior season and I look forward to seeing what contributions she can continue to make to the team." – Coach Pinion, Girls Soccer
Mrs. Rees asked to write about her seniors, and she wrote the following:
"We are very fortunate to have five outstanding young ladies leading our teams this year. Whether it's on the sidelines, preparing for competition, or organizing and making the Sparkle Team successful for all, our seniors all have contributed to a uniquely strong start. Led by Malina Meese, Makia Miller, Hudson Wallick, Kennedy Wallick, and Eva Wherley, the cheerleaders are incorporating new ways to promote spirit and involvement within our student body. Coach Anderson and I couldn't be prouder of what we've seen them accomplish already, and we know we're going to have a rewarding year packed with excitement, teamwork, and dedication to all things Dover!" – Coach Rees, Cheerleading
I also got a chance to interview Hudson Wallick, cheerleader and captain of the Sparkle Team.
Hannah: What do you like to do outside of cheer practice?
Hudson: I like to hang with friends. I love to babysit, so if anybody asks me to babysit, I'm down to.
Hannah: What would you say the best part is about being a cheerleader?
Hudson: I'd say the best part is showing the community who we are, showing our school spirit, and just getting out there in front of everybody.
Hannah: What's your favorite cheer, or chant?
Hudson: Probably "give us a D."
Hannah: How do you feel when people say "cheerleading isn't a sport?"
Hudson: I feel that it is a sport, and when people tell me that I ask, "What makes it not a sport?"
Hannah: In addition to cheering for varsity, you're also captain of the Sparkle Team. For those not knowing what that is, how would you explain it?
Hudson: I would say it is something we started two years ago, and it's a chance for boys or girls with disabilities to cheer in front of the community, and they cheer just like us. It's a great way to incorporate everybody.
Hannah: What would you say the best part is about working with the Sparkle Team?
Hudson: It's probably getting to see them progress. If I show them a cheer, they've got it. If we do a dance, they've got it. If I tell them to call a cheer, they're down to do anything.
Hannah: What advice would you give a middle school cheerleader that wants to cheer for varsity in highschool?
Hudson: Practice makes perfect. Practice, practice, practice. Come to me if you need anything or have any questions. Work on jumps, jumps are one of the key things. Work on your motions.
About the Contributor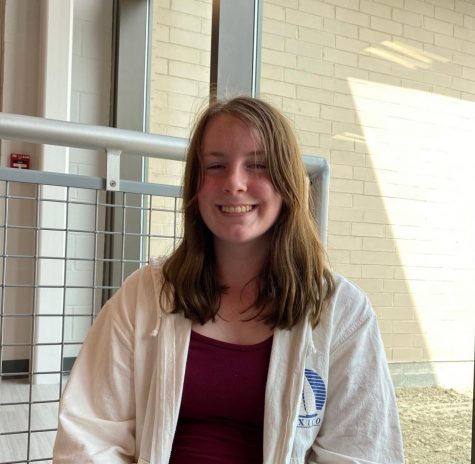 Hannah Wells, Co-Editor in Chief
Hannah Wells is a second-year Crimsonian member and Co-Editor-in-Chief. She is a senior this year. She is involved in orchestra, chamber orchestra, marching...