Restaurant Review: Mac and More
Mac n' More: Dover's New Hit Diner
Flashback to September: the citizens of Dover and New Phila got new information about a brand new restaurant on 2nd street of Dover that specializes in different types of macaroni and cheese. This place is called McKinney's Mac n' More. It had such crazy hype before it opened, so they had to close after the first day because of the number of sales they had.
I went the second week they opened, and I got the Plain Jane meal. For the price, you get lots of Mac and Cheese, a drink of choice, and a salad. I personally have an absolute love for mac and cheese, so this place is right up my alley. I was so excited to try Mac n' More since I heard about its opening, and I must say I am very happy with my results after eating there. The workers are extremely friendly, and the vibe all around was a happy and cozy environment. When I went I brought my friend Skylar and this is what she has to say about Mac n' More, "I got the barbecue pulled pork mac and cheese, and I loved how they did the portions for the meals. I'll definitely be going back again!"
They now have a student meal for kids that want to get some lunch after or in between classes. This meal contains a medium mac and cheese, fountain drink, and a buckeye dessert for an affordable price! They also have a build your own mac and cheese, sandwiches, subs, grilled cheese, hot dogs, and salads. Even if you aren't a big fan of mac and cheese, you will surely find something you like. If you haven't already stopped down for a meal, I highly recommend you go get yourself some yummy food!
About the Contributor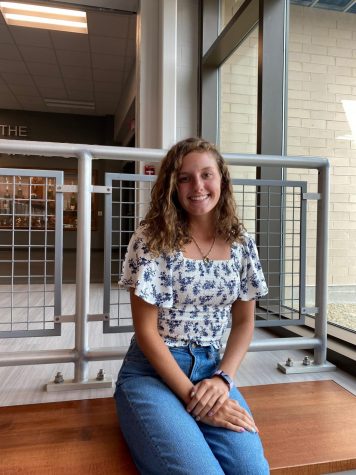 Emili Edwards, Staff Writer
Emili is a senior and a first-year member of the Crimsonian Staff. She is a member of the Dover Girls Tennis and Dance Team. She is involved in Big Brothers...