Improving our High School Experience
As a member of the Dover High School graduating class of 2022 looking back at the previous years I have spent in high school have been, well… bland. Through discussion of the new school, implementing new traditions was considered, but no action has been taken in the actual creation of new traditions. Don't get me wrong –Homecoming, Prom, Dover-Phila week, the bonfire, the senior Cedar Point trip and various other events are fun, but times are changing; we're in a new school, and new traditions should be in the making today. As a solution, I think we need to create new dances, activities, and social gatherings.
Homecoming and prom are very popular school activities that result in large turnouts every year; however, there are some things about these dances that are not so fun. For example, students must buy dresses and suits that can get expensive on top of other expenses such as shoes, hair, makeup, nails, and flowers. In addition to the cost of these dances, after spending so much money and time on the preparation of homecoming and prom, pressure is placed on the dance to be perfect after so much build-up and anticipation has gone into it. Most of the time these dances do end up being fun, but I want to offer a more relaxed school dance. For example, my mom attended high school in the 80s, and her high school hosted a dance in the high school gym after every Friday night football game. Students did not dress up in dresses or suits; they just showed up in everyday attire. Students could buy a ticket at the door to cover the costs of a DJ and chaperones.
In addition to Friday night football dances, other dances the school could host could be themed dances. While prom and homecoming do have themes each year, students do not dress according to those themes. Many high school shows and movies include decked-out decade dances, Halloween dances, or other holiday-related dances where students, or extras, in this case, wear crazy outfits or costumes to match the theme. A committee could be put together to organize the dance and decide on decorations and songs. An obvious setback to this suggestion is that it costs money to throw a dance; however, no time would be better than now because so many school activities that took away from class budgets last year were canceled. Additionally, It would create another opportunity for juniors who missed out on prom last year to attend a dance.
For students who are not into school dances, the school could throw a senior sunrise for seniors near the end or beginning of the year when the temperature is warm. During Senior Sunrise, students would come to school early to get breakfast, whether it's donuts and a warm drink or other breakfast food items, and converse with friends while the sun comes up. At the beginning of the year, this could provide a good way for classmates to reacquaint themselves after the summer, or at the end of the school year, students could reminisce on the good times of their high school years. Overall, a Senior Sunrise would help to elevate class morale and spirit.
Another event the school should consider adopting should be homecoming week dress-up days. I think it is fair to say the school week is a lot more exciting when students and teachers wear funky outfits to show school spirit. We currently do not participate in a spirit week before homecoming because we have dress-up days the week before the Dover-Phila game which is such a big tradition between Dover and Phila that it has become comparable to a holiday. Many schools, however, take part in homecoming dress-up days to build anticipation for the dance. These dress-up days also allow students who do not want to attend the dance to join in on some of the fun.
Lastly, I think the school should create a new tradition called School History Day. This may sound boring, but I think it would be an interesting tradition. Normally, on this day students recognize the year their school was built, but since the new school was built in 2019, it would not be any different from what students wear today. Instead, students could dress as any decade between 1915 (the year the old building was built) and the early 2000s the closest time period to now that has remarkably different fashion). This day could be used to commemorate the old school throughout its over one hundred years of service to the thousands of students it has facilitated. Even though the old building was past its prime, it still holds a special place in the hearts of the students who attended school there and should definitely be remembered. We could have this dress-up day in the beginning of March because that was when all the materials from the old school were brought over to the new school.
Obviously, all of these suggestions are not achievable in a single school year's time, but it would be fun to start a new tradition for the new building and throw events to boost school spirit. High school, like most things in life, is what you make of it. Sometimes it is okay to submit to a cheesy school function once in a while.
About the Writer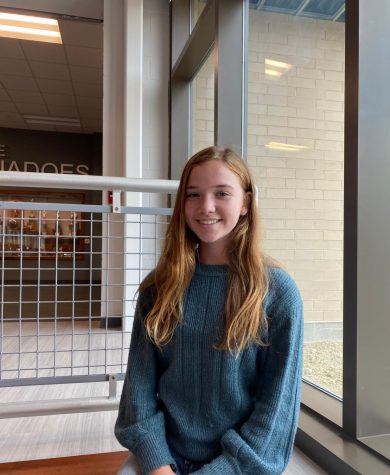 Audrey Wallick, Staff Writer
Audrey Wallick is a junior this year and a first year member of the Crimsonian staff. She plays the viola in orchestra and is a member of the cross country...