The Importance of Class Trips
A few months ago, the seniors were not sure if they would be getting the chance to take the annual trip up to Cedar Point. At first, the situation did not look good. The trip was canceled for some time; however, we soon received news that we could go! For myself and my other classmates who enjoy roller coasters, I can say that we were disappointed when we heard the bad news. Now that we can go to Cedar Point as a class, most of us seniors are relieved and excited that we can once again do something more normal. So, why am I telling you this? What does the Cedar Point trip being rescheduled have to do with anything? The answer is simple: class trips are important.
Any kind of school trip is important, whether it be informative or just for fun. For example, in seventh grade, we took a trip to a local watershed to see what we had learned about in class in action with our own eyes. That was one of the more informative trips. Another informative trip was in fourth grade when we went to Roscoe village to witness what life was like in early Ohio, as well as seeing a canal. These trips, filled to the brim with information and fun facts, were still enjoyable, but they offered a sense of importance and allowed us, as developing kids, to learn and experience more hands-on learning. Going and learning new things not only broadens our horizons but also engages our brains. Being able to undergo new experiences and see different perspectives that are not usually presented at school are important, especially to growing minds that are absorbing as much information as possible. And, even at 17 or 18 years old, our senior minds are still growing as well. We're always learning, but informative class trips help to enhance that.
Other than the aforementioned informative school trips, trips for fun are just as important. For example, in second grade, we took a trip to the Harry London chocolate factory. Although we learned how chocolate was made and it was super intriguing, it was not something we had learned about in school, so I would consider this trip a fun one. Plus, we got to taste chocolate samples, so it definitely counts. Another fun trip is the eighth grade D.C. trip. Once again, we learned a lot, both throughout the school year and on the trip, and got to see history before our own eyes. This trip was so much fun that I didn't mind the learning aspect of it. Instead, I embraced the facts and enjoyed learning as much as I did my immersion in DC. A different fun trip we went on was the music department trip to Orlando, FL over spring break of my sophomore year (2019). We spent a day at Universal and the rest at Disney. In the middle of the week, our band, choir, and orchestra got to perform at Magic Kingdom (band) and Disney Springs (choir and orchestra), which was really cool. That trip was one I'll never forget. Being able to go on rides with such a fun group of people was amazing.
Of course, that leads us to the final trip: the Cedar Point trip for seniors. This is important to us because it allows us to have fun together one last time as a class before graduation, and it gives us an opportunity to do something stress-free at the same time (and we all know the seniors need that). Especially for those who love roller coasters, this trip is a must. I think I speak for all the seniors when I say that this trip is important, not only because we get to have fun, but because we get to do it together. School trips are an important part of learning. They let you experience the world around you more closely and even in a new light. And the fun ones, well, you know, are for making memories together and having a good time. If you have the chance to go on a school trip, take it! You won't regret it.
About the Contributor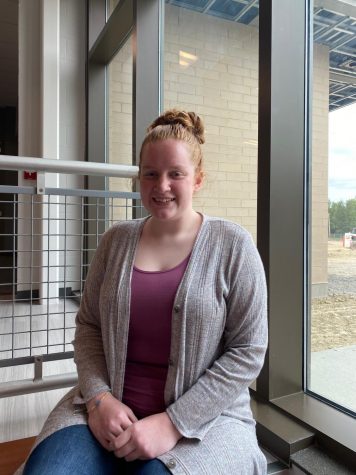 Tori Shankle, Staff Writer
Tori is a senior and a second year Crimsonian member. She participates in student council, Concert Choir, Ars Nova and is a member and officer of National...