Leaving A legacy: 2021 Retirees
With this year's graduating class, we have a few Dover High School staff members "graduating" into retirement this year also. I decided the Crimsonian should pay a tribute to them by giving a questionnaire about their time here at Dover!
How long have you worked at Dover?
"21 years" – Mr. Sparks
"23 years" – Mrs. Fritz
"I have been at Dover High School for 23 years. I taught at Nordonia High School for 12 years prior." – Mrs. Tucci
What has been your favorite part about working here?
"The students and staff are like family!" – Mr. Sparks
"As a DHS alumnus, coming to work for Dover schools was like coming home. Over the years, I have enjoyed working with the staff who were teachers or fellow students, from my own high school days, then seeing their children attend, and in some cases, return to teach at Dover. It's like a big family" – Mrs. Fritz
"The People: Teachers and staff here are excellent. The kids are great here too. I taught one year in Akron City and the rest of my years at Nordonia. I remember my first weeks here wondering if I would encounter a discipline problem. I didn't even have many detentions my first year. The businesslike attitude made the students work hard and engage in their work so I loved just teaching not disciplining." – Mrs. Tucci
What is your favorite memory in your time of being here?
"Too many to choose from. But watching the interactions of students in the hallways, athletic fields, and classrooms." – Mr. Sparks
"My favorite memory is Poetry Night, which featured coffee, music, and poetry readings by students and staff. The library was decorated like a cafe, including white twinkle lights, teapots, and food sculptures by the art class. It was a beautiful, fun evening of sharing and fellowship." – Mrs. Fritz
"I started the New York trip about 20 years ago. I loved taking sophomore and juniors to the Big City and to experience all the culture there. I look back at pictures from past years and smile at all the great memories. I also loved putting together Homecoming Dances and other activities for the school. I have had such outstanding presidents and people in the Student Council. Our themes were always so unique and fun to put together. I think I helped put on 22 Homecoming Dances. Lip Sync was a competition Student Council started and it went for about 10 years. Each class got 8 minutes to dance and sing to a medley of songs. We would bring judges in and give prizes. The kids did such a great job. " – Mrs. Tucci
What is your favorite part of the old high school and the new high school?
" At the old high school, I liked knowing the history and having a very large room and storage room. At the new high school I liked having everything new and having a large room again." – Mr.Sparks
"I loved the lobby at the old DHS, and am so glad that the woodwork, benches, and marble have been incorporated into the new building. My favorite part of the new DHS is the beautiful, spacious new library (of course!) with its floor to ceiling, windows, carpet, large office, soft seating, and cool curved circulation desk." – Mrs. Fritz
"I loved all the nooks and crannies that the old school had. I loved to walk around and listen to old stories from Bill Uebel about how it used to be. The year I was hired I walked around and I remember thinking how I loved the old classrooms with high ceilings and wooden floors.
The new school is a palace. I was so excited to get everything new. I love the Commons for its welcoming atmosphere. The gymnasium is amazing and one of the best in the area. I am so happy to get to end my career in such an outstanding facility." – Mrs. Tucci
What was your favorite class to teach?
" I truly enjoyed all the classes I taught" – Mr. Sparks
"I came alive during "research season" helping students select topics, and locate resources for their projects. I especially enjoyed collaborating with Mrs.Tucci on her creative history assignments." – Mrs. Fritz
"I love teaching my APUSH class. I love watching my students learn to evaluate and form opinions from researching topics. We teach this course to sophomores where most schools teach to juniors. Our Dover kids rise up and accept the challenge and usually are very successful on the AP test." – Mrs. Tucci
If a student is looking into working in teaching or a school system itself, what is the best piece of advice you would give them?
"Find a place that is comfortable for you. A place where you feel like home." – Mr. Sparks
"Get a good education, and be prepared to be a lifelong learner." – Mrs.Fritz
"Love your students like they are your own children. I always thought of each of them as my own and how would I want them to be treated at school. I speak to each of them with respect and empathy. We don't always know where they come from and what they have to deal with. I probably was taken advantage of a time or two but I would do it all over again the same way" – Mrs.Tucci
If you didn't have the job you do now what occupation would you want?
"One that would help people in need." – Mr. Sparks
" I've wanted to be a school librarian since I was in 6th grade, but I think I would enjoy being a secretary or choir director as well." – Mrs. Fritz
"I love to work out. I am really into spinning. It is a class using stationary bikes. I will probably become an instructor and work at some type of fitness center. " – Mrs. Tucci
What hobbies do you have out of school?
"Reading, running, chess, playing board and card games, being a father, husband, and a grandpa!!" – Mr. Sparks
"Reading, sewing, cooking, gardening, and playing the piano."- Mrs. Fritz
"Biking, hiking, and spin classes I love to go to sporting events at all levels. My family is big in Ohio sports. We are Buckeye, Browns, Cavs, Indians fans. We are planning to do some bucket list traveling to sporting events in retirement like spring training in Arizona, Big Ten and MAC championships in basketball, and the list goes on and on."- Mrs. Tucci
What is your favorite Dover tradition?
"The state send offs."- Mr. Sparks
"I love the Dover-Phila week parade, (snake dance), and bonfire!"- Mrs. Fritz
"Dover/Phila rivalry, Homecoming Parade (marching to Crater stadium with the band), and the Homecoming halftime is so classy." – Mrs.Tucci
Finally, what is something you will never forget about working at Dover?
"How kind the students and staff are. How supportive the parents are. How involved the community is!" – Mr.Sparks
"I will always remember my wonderful student library aides, who provided daily help, support, and laughs!"- Mrs. Fritz
"The great community that embraces the school with pride and parental support. I was so lucky to teach in such a supportive environment."- Mrs.Tucci
Thank you, Mr.Sparks, Mrs.Fritz, and Mrs.Tucci for all your years at Dover High. We appreciate everything you have done for us!
About the Contributor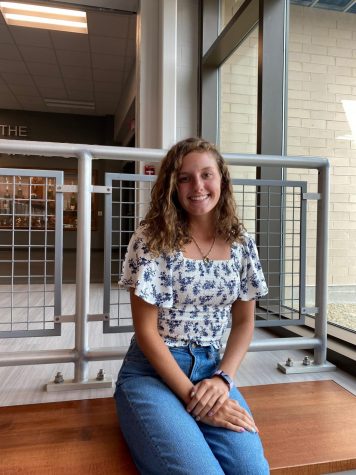 Emili Edwards, Staff Writer
Emili is a senior and a first-year member of the Crimsonian Staff. She is a member of the Dover Girls Tennis and Dance Team. She is involved in Big Brothers...